By Chris Arrant
Marvel has had offices in New York City for 50 years this year, and the history of the company goes back further all the way to 1939. In those seven-plus decades years, a veritable who's who of comics has worked for the House of Ideas, from creative positions to editorial and administrative roles—and some have worked from the bottom up.

Letter sent to Tom Brevoort for his internship application
Marvel Senior Vice President of Publishing Tom Brevoort, for example, started out as an intern.
Last month, Brevoort related some of his experiences as a Marvel intern in the late 80's. In the process, he revealed he had kept scans of several pieces of inter-office paperwork, a veritable treasure trove from 20 years ago. With these keepsakes in hand and the healthy memory of the long-time Marvel employee at his disposal, Tom spoke in-depth about his journey and the lessons learned.
Marvel.com: When specifically did you work as an intern for Marvel, in what department and under what editors? 
Tom Brevoort: I worked as a Marvel intern in the summer of 1989, from June through the end of August. I worked five days a week, and I split my time between three offices: Bob Budiansky and Dwayne McDuffie's office in Marvel's Special Projects Division, Craig Anderson and Renee Witterstaetter's Marvel Universe/Cosmic office, and Greg Wright and Evan Skolnick's Marvel Universe/Special Projects office.
I came up with a good crop of interns as it turned out. Among our group, Mark Powers wound up coming on staff and eventually editing X-Men, Alex Chun produced a number of books on classic cartoonists for Fantagraphics, and Cynthia Ignacio went on to become a Disney animator.

Cartoon by Rick Parker
Marvel.com: Why did you apply to be an intern at Marvel? 
Tom Brevoort: Well, obviously, to get a leg up on getting into the business. But specifically, in the illustration program I attended at the University of Delaware, senior students were required to get and serve an internship at some company or institution related to the field of illustration. In our initial freshman orientation, the head of the department mentioned that they had previously placed one student at Marvel Comics, so I figured I would set my sights there. I simultaneously applied to DC, but never heard back from them.
Marvel.com: What were your job duties while you were an intern, and were there any unexpected duties you ended up doing as well? 
Tom Brevoort: Speaking completely immodestly, I worked as a terrific intern, and so editors called upon me to do much more substantive work that would typically be assigned. So I wound up doing a lot of mechanical paste-up—all done by hand on actual boards back in those days—for full volumes of Marvel Masterworks as well as balloon paste-up for assorted comics, including the short-lived FREDDY KRUEGER'S NIGHTMARE ON ELM STREET magazine. I did a few art corrections as well; there's an issue of AVENGERS SPOTLIGHT, one of the lead-in chapters to the "Acts of Vengeance" crossover, in which I penciled a small shot of a character phasing through a wall.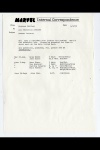 "Interns are coming!"
I also worked a lot on licensing artwork, gathering reference or pick-up art for assorted licensed items. In those days, Marvel only had one computer, and I happened to be better versed than most among the staff in how to use it, so I wound up doing a lot of typesetting, including all of the computerized balloons in THANOS QUEST and the DEATHLOK limited series.
Marvel.com: How'd you manage to survive a summer in New York City working an unpaid job when you weren't even done with college?
Tom Brevoort: I had a couple advantages. I grew up in Long Island, even though I lived in Delaware at the time. My grandparents lived in Valley Stream, so I stayed with them and took the train into town Monday through Friday. On Saturday and Sunday I worked a crappy fast food job.
Marvel.com: During your weekdays working as a Marvel intern, a big part of your job required mechanical paste-up, a bygone skill with wax glue and x-acto knifes if I remember right. Although those kinds of things have gone by the wayside, how did having your arms so deep in the workings of the industry help you when you became an editor?
Tom Brevoort: I don't think any of it hurt, specifically! [Laughs] I did everything I could, from researching art and fixing lettering. I became a master of Xerox lettering corrections, which amounted to finding the correct letters in other pages of the comic and then cutting and pasting those individual letters to fix the incorrect balloons.

Cartoon by Rick Parker
In fact, I think because I could [do] stuff that editors put me to work so much. I would paste-up whole volumes when editorial became backed up.
I remember working on the second issue of FREDDY KRUEGER'S NIGHTMARE ON ELM STREET under a crushing deadline; it seemed like Bob Budiansky checked in every fifteen minutes, saying "Where are you? Are you done yet?" Although I finished it, it didn't see print for another year and a half. That's publishing.
Because of my art background in college, I had the skills to jump in and do stuff that the average intern couldn't.
Marvel.com: In his recommendation letter for you back to your college, Bob Budiansky said you "seduced us into relying on him". That really stands out for me. How do you think the "seduction," so to speak, applies for intern wanting a career out of their internship?
Tom Brevoort: [Laughs] That's a cheeky way of putting it!

Bob Budiansky's letter evaluating Tom Brevoort's internship
Not specifically "seducing", but certainly as an intern I strived to work my ass off and be better than anyone else. That's still how I try to work in whatever I do today. I edit a lot of comics and my endeavor every day to make them better than anyone else out there. No more than that; if you can impress people with your skills or drive, then you're more likely to get a callback or be remembered when an opportunity comes up. If you make their lives easier, if you can do more, if you can be an actual asset more than someone just hanging around the office needing their hand held to make a Xerox copy, then people tend to stand out and be noticed positively.
Marvel.com: You mentioned that early on in your internship you did an art correction in an issue of AVENGERS SPOTLIGHT, penciling a shot of a character phasing through a wall. How'd that come about?
Tom Brevoort: I did a couple minor art corrections while as an intern—more here as an editor. In either #27 or #28 of AVENGERS SPOTLIGHT [It was #27 –"Battlin'" Ben Morse], a lead-in to "Acts of Vengeance," there was a breakout at the Vault, and there was a panel where a character phased through a wall. And I guess either the penciller had missed it or editor Greg Wright didn't think it looked good. I don't remember the exact circumstances, but it needed to get done so the Bullpen could get it to print. At the time, John Romita and Romita's Raiders were backed up and my bosses had seen I could draw, and said "Here, take this—draw this guy coming through the wall!" I stammered a little, but picked up a pencil and took a whack at it. Al Milgrom inked the issue, so it almost wouldn't have mattered too much; he's enough of a pro to correct it on the fly, but they needed something there for him to work off of.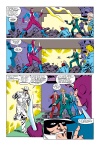 AVENGERS SPOTLIGHT #27 page penciled in part by Tom Brevoort
Marvel.com: So if an intern had skills in drawing that might be a good skill to bring to the table?
Tom Brevoort: Certainly. We have our master re-constructionist Scott Elmer, known as 'Scummy' or 'Pond Scum.' We don't use him as much as the Raiders back in the day, because the process works different, but we still do art corrections here to some degree, and he's absolutely helpful for when the occasion arises. In a perfect world, we'd ask the original artist to do the correction—with virtually everything coming in digitally you can do that. Back then when I started the original art came in by mail to Marvel, so the process of mailing it back to the original artist to fix it and send it back would take too long. But these days, if I have a page from Scot Eaton, for example, that needs a correction, I can email Scott back and say "Can you make Cap's head bigger or turn it this way?" and he can make that correction.
Come back to Marvel.com next week for the second part of our conversation with Brevoort, discussing clearing the submissions pile, meeting Brian Michael Bendis for the first time and how he deals with interns today!