By Tim Stevens
Eugene Thompson, who prefers to be called by the nickname "Flash," is an adult male who presents as being in above average physical fitness. Due to wounds sustained while serving in Afghanistan, the client has had both legs amputated above the knees. He has, at this time, completed intensive physical therapy and recovered from other peripheral wounds he received concurrently during the incursion. Currently, he has been chosen to wear both the Venom moniker and the alien symbiote that makes that possible. It should be noted that this arrangement enables Thompson to walk, when wearing the "suit," as the alien "grows" the client workable legs.

The client self identifies as an alcoholic and his file reflects this. Under the influence of alcohol, he did incur a traumatic brain injury (TBI) that left him in a coma for a period of time. Although the incident was caused by Norman Osborn, Thompson still identifies it as a relapse and has taken step to make amends to those affected. It is this writer's assertion that this demonstrates the client's strong dedication to his sobriety and that he takes the tenets of Alcoholics Anonymous very seriously. Although initially it caused some long term memory loss, Thompson appears to have recovered fully from the TBI and reports not having any lasting effects that he is aware of.
As mentioned above, the client was severely injured in the course of serving the U.S. overseas. Thus, this writer did evaluate him for PTSD. At this time, Thompson does not qualify for a diagnosis of PTSD and, in fact, appears to have survived the incident without any signs of lingering trauma. He reports no flashbacks, is able to discuss the event with re-experiencing it, and demonstrates a thoughtful and honest attitude about what it cost him.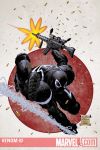 All of this having been said, the writer still has concerns about Thompson's role in the Venom initiative; this writer has, time and again, compared the experience of "wearing" the symbiote with that of an addict using his or her drug of choice and has yet to encounter any evidence to reconsider that opinion. While steps have been taken to limit the possibility of merger—limited mission time, a 20 mission limit, a cocktail of prescription medications—the fact is that Thompson is an addict and thus even more susceptible to whatever feelings the symbiote offers. Additionally, there is a physical adaptation component that did not exist for any of the previous "hosts." Therefore, Thompson will not only be receiving certain psychological benefits from the alien, but also the physical rush of being to walk again. This is bound to make the possibility of the addiction observed in Eddie Brock and Mac Gargan all the more tempting and likely. The fact that the client has already shown signs of bonding this early, regardless of how small those signs may be, is evidence of this. Thompson has given much to this country already; to further risk his well being in this manner seems shameful and unnecessary.
However, this writer is aware that this opinion is not shared by many connected to the program at this. Thus, I recommend the client at least continue meeting with myself or other members of the staff.
With this in mind, I have gone ahead and made follow-up appointments for Eugene "Flash" Thompson on March 9 and April 27 with Doctors Rick Remender and Tony Moore. Details on these sessions can be located in files VENOM #1 and VENOM #2
Psy D. Candidate Tim Stevens, MA is a Practicum Trainee at a Federal Correctional Institute and a Dialectical Behavior Therapy Consultant. In the past, he has worked with veterans who were living with substance abuse disorders.