By Chris Arrant
How can one woman stop an atomic meltdown and out of control panic across a foreign capitol? The same way she's done from day one: with poise, calm and deadly accuracy.
FEAR ITSELF: BLACK WIDOW sets super-spy Natasha Romanoff in Paris as she attempts to stop a nuclear disaster while the streets descend into madness due to the events of Fear Itself.
"The city sits in a state of mass chaos thanks to what's going on in the world, and Natasha is in a very dark state of mind herself," writer Cullen Bunn explains. "She has to fight through that, of course, and focusing on the job at hand becomes something of a coping mechanism."
Disarming a nuclear weapon as stress release? Only in the Marvel Universe, where you'll also see the larger than life threats established in Fear Itself mixing with the subterfuge and spy-game mentality that surrounds The Black Widow, who's up against the all-too-real threat of terrorists looking to take advantage of a dire situation.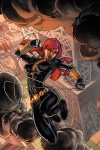 FEAR ITSELF: BLACK WIDOW #1 cover
"In this story, Natasha goes up against a group of international terrorists who want to use the chaos and confusion that's overtaking the world to propagate their own vicious agenda," says Bunn. "They are organized, well-financed, highly-trained, and dedicated to their cause. There's a ticking time bomb element to the story as well, so Natasha races against the clock. If that wasn't bad enough, she also has to contend with a populace in the thrall of mass panic, which makes her job all the more difficult."
Although this might be her most difficult challenge yet, those who have squared off against The Black Widow in the past would contend she's up for it.
"This [one-shot] shows Black Widow at her most ruthlessly professional and efficient," promises Bunn. "I really wanted to tell a solid espionage/sci-fi thriller here, and painting that picture against the background of Fear Itself allowed me to elevate the threat level of the Black Widow's adventure."
Black Widow plays a big part in the larger super hero world in CAPTAIN AMERICA as well as SECRET AVENGERS. To get to the center of the character's intricate web, Bunn had to dust off a few cobwebs.
"As with most of my projects, I jumped into my back issue boxes to read as much as I could about the character," he says. "I wanted to make sure I had the Widow's personality and voice down-pat. I also spent a little time with a few of my favorite spy novels and flicks, just to get me in the right frame of mind."
Bunn had to not just create an intriguing espionage tale, but do so in tandem with the calamitous events coming out of Fear Itself. And in this world where mutants, superhumans and gods walk amongst us, how does a "normal" woman—albeit a Russian super spy—cope with supernatural influences and the like?
"That's one of the things I like most about this story," Bunn points out. "It showcases that the events of Fear Itself are widespread and far-reaching. Yes, there are challenges that only the most powerful of heroes can handle. But events are spiraling out of control, and Thor and Iron Man and the X-Men can't be everywhere at once. The Black Widow's mission is vital, though. If she fails, the loss of life could be devastating. As for how she copes, I imagine it's all part of her years of training and experience. She's been conditioned to handle events that would make most people wet their pants."
For more on Fear Itself, visit the official event page