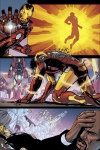 Art by Rebekah Isaacs
By Jim Beard
Iron Man leads a rag-tag band of heroes from bygone eras in a desperate battle against the Dark Phoenix this June in The Iron Age. Writer Rob Williams and artist Rebekah Isaacs bring the project together, which leads off with THE IRON AGE ALPHA, followed by six one-shots throughout the summer and concluding in August's THE IRON AGE OMEGA.
"The initial thought on The Iron Age was one of those 'eureka' moments," reports Williams. "I'm a huge NFL fan and was reading a magazine article on the success of the Throwbacks weekends, where teams wear their old uniforms. And then I figured, why don't we do that with a one-off super team? Put some of our favorite heroes from today together in their old outfits. Any old time Marvel fan would love to see Luke Cage in his headband, Johnny Storm in his red FF outfit [and] Captain Britain in his classic [Alan] Moore/[Alan] Davis 80's uniform all fighting side-by-side. From there it was just working out the logistics of how we could pull this off and tell an emotionally engaging story, one that worked as a thrilling adventure and that had something to say about the longevity of these characters and why we love them so much. A story that occurs in today's Marvel Universe and actually matters to the main characters, rather than being a What If? type of deal.
"Fortunately, thanks to the universally recognized complex 'Timey Wimey rules'—to steal a Doctor Who line—of Doctor Doom's time machines, we were able to pull it off. You'll see Iron Man go back and interact with some classically attired heroes in a series of one-shots that will have the old logos on the covers, the old trade dress. The reader will get to feel like they've gone back in time to their Marvel-reading childhoods."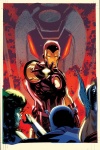 Art by Lee Weeks
"What Rob's done brilliantly in this story is find a way to take with some of our older toys—the classic Heroes for Hire, Captain Britain's totalitarian England, the Hellfire Club and the Dark Phoenix Saga—and play with them in a way that still drives our Marvel Universe forward," chimes in Iron Age editor Tom Brennan. "Iron Man may travel to the past, but he has the weight of their future and our present on his shoulder. How will Tony Stark feel when he talks to The Wasp long before she dies in Secret Invasion or Johnny Storm before he dies in the Negative Zone? Does he warn them of the events to come?  Dare he?"
Williams states that Tony Stark's "rich history" makes him the perfect Marvel hero to stand at the center of this event.
"We needed someone with iconic moments we could go back and visit," he explains. "Also, Stark's technical knowledge means that, if anyone could put one of Doctor Doom's time machine back together, he could. It'd be too easy for Reed Richards, but Stark? There'd be a challenge to his ego there. A time machine should be beyond him. But is it? Also, his arrogance meant that he has a long way to fall. We're really putting Tony Stark through the mill in Iron Age. Kicking him where it hurts and trying to give him one of his greatest challenges.
"Stark's mission? When a long forgotten figure from his past uses one of Doom's time machines to bring back Dark Phoenix, Tony watches in horror as the Marvel Earth is completely destroyed. This isn't a What If?; everyone on the Marvel Earth dies and Stark finds himself trapped in the past. From there he has to recreate one of Doom's machines and travel back to save the day. But he's going to need the help of some surprising Marvel figures to pull this off. And they'll meet some interesting old villains along the way, too."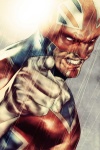 Art by Ben Oliver
One aspect of The Iron Age the writer particularly looks forward to: the chance to work with artist Isaacs, a rising star whose Marvel work should make more than a few other sit up and take notice.
"Rebekah's great," says Williams unequivocally. "She's got that vital, new feel to her work which was important when it came to the two contemporary bookends ALPHA and OMEGA. We wanted an art style that felt very 'today,' if that makes any sense. She's got a very accessible storytelling style, her pages look great and she draws very cool versions of these super heroes that somehow still feel classic. If the middle sections of the story are a paean to the past, the two bookends needed to feel like a celebration of Marvel now. They needed to feel fresh and vibrant, and Rebekah was a great choice for that."
Part of that vibrancy came from picking which characters from Marvel's trend-setting past would join the fight to save the future, a few of which may even prove a bit controversial.
"At the risk of sounding trite, aesthetics played a large role in deciding the Iron Age roster," Williams admits. "The initial thought was, 'who had a really cool old costume?' Who would the fans love to see again. But that's obviously not enough to sustain the storyline. From there it was trying to come up with an emotional core to the story. A unifying theme. This is really a love letter to the Marvel heroes who fired my imagination when I was a teenager and a child. But we were determined not to let it slide into fan fiction. We're revisiting some pivotal moments in Marvel history with this series but telling our own fresh story.
"I liked the idea of putting disparate heroes together in a one-off super team where the stakes are the highest possible. If the Iron Age heroes don't pull this off, everyone on Earth is dead. And that brings a fellowship between them that wasn't there previously.
"And we had to put Dazzler in there. I mean, the disco look, the roller-skates..."
For more news, live reports, photos, videos and more from the 2011 Chicago Comics & Entertainment Expo, stay tuned to Marvel.com all weekend! And to really keep up, get the Marvel Live Event App!