By TJ Dietsch
Come summer, the hunt will be on in the pages of BLACK PANTHER MAN WITHOUT FEAR.
Starting with June's issue #519, the two-issue "Storm Hunter" storyline kicks off from writer David Liss and artist Jefte Palo who's filling in for series regular Francesco Francavilla. Currently living a simpler life in New York City and filling in for Daredevil as the hero of Hell's Kitchen, T'Challa receives a pair of sudden surprises: a visit from his wife Storm as well as Kraven the Hunter trying to kill him.
Both events upset T'Challa's new status quo, but Liss describes the Kraven incursion as "being the most pressing obstacle to T'Challa fulfilling his sworn obligations—and to T'Challa staying alive."
But why would the recently resurrected villain known mainly for tormenting Spider-Man have such a mad-on for Black Panther in the first place.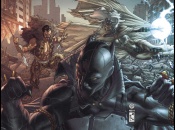 BLACK PANTHER: MAN WITHOUT FEAR #519 & 520 covers by Simone Bianchi
"Let's just say they have conflicting motivations," Liss offers. "T'Challa has to save the life of a young man who has been injured because his path crossed that of The Black Panther. Kraven, in fulfilling an old debt of honor, is trying to prevent T'Challa from doing so. Each is the other's primary obstacle. Plus there's a ticking clock!"
In times past, Kraven might have given T'Challa less of a run for his money with the Panther god and vast technical resources on his side, but Liss reminds that things have changed for the former king of Wakanda:
"Black Panther no longer has any special powers or tech, so this is a fight between two supremely capable, motivated, and battle-hardened men. They both bring their particular skill sets to the table, and they are both ruthless and driven by a keen sense of honor. It's the jungle's fiercest predator versus the world's most dangerous hunter."
T'Challa will already have his hands full, but a surprise visit from Storm, who had previously agreed to give him the space he needed in New York, will add in its own series of obstacles.
"I don't want to give too much away," says Liss. "Let's say the reasons are urgent, not agreed upon by all parties, and not everyone is happy about it."
Despite the aforementioned similarities in their backgrounds and seemingly natural antagonism, T'Challa and Kraven have never faced off before, a fact that surprised Liss.
"I know Black Panther has fought Kraven's son, who had taken up the Kraven mantle at the time, but this is the first time the original Black Panther and the original Kraven are going to meet," notes the writer. "We live in exciting times."

For more news, live reports, photos, videos and more from the 2011 Chicago Comics & Entertainment Expo, stay tuned to Marvel.com all weekend! And to really keep up, get the Marvel Events App!