By Tim Stevens
This June, creators David Liss and Patrick Zircher reveal a side of the Marvel Universe never seen before. MYSTERY MEN, a five-issue limited series, travels back in time to the New York City of 1932, a time before super powered heroes protected the common man.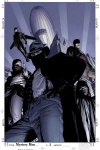 MYSTERY MEN cover by Patrick Zircher
"New York in 1932 was in the midst of the Great Depression, so there is terrible poverty and injustice everywhere," says writer Liss, introducing the world of the story. "There is racism and gender inequity and rapacious corporate greed, all of which goes unanswered.  Basically, it is all the worst elements of today's New York without any of the good parts."
Nailing the look of this grim, dirty landscape falls to artist Zircher, who takes the task very seriously.
"It's a little extra work drawing a particular era because all the elements that make a good story—characterization, mood, composition, and pacing—are still vital and necessary but period detail is too," he asserts. "Buildings, furniture, automobiles—the whole world requires more thorough research. Still, it's interesting work as well.  Everyday scenes become an opportunity to draw great looking clothes, cars, and building fronts; and, of course, there are the zeppelins."
Despite the negativity pervading the atmosphere, there still exist people who want to do good, and MYSTERY MEN focuses on these champions through the eyes of a new arrival, The Operative, as he joins an attempt to bring justice to those who would harm to others.
"The Operative is an incredibly skilled fighter, thinker and schemer, trained by his father [for] and military pursuits, but who has turned his back on his family to live a life of cat-burgling justice," explains Liss. "When the woman he loves is murdered, and the police try to pin the crime on him, he has no choice but to take matters into his own hands. Like any good pulp hero, The Operative is tough as nails and willing to do what is necessary to get the job done, but he's also vulnerable and very human."
As the Operative seeks to clear his name, he encounters four other emerging heroes.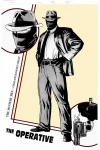 The Operative design by Patrick Zircher
"Some are more archetypal than others," the writer notes. "Aviatrix flies around with a jet pack; The Revenant uses his training as a stage magician to create the illusion of mystic powers; Achilles possesses an ancient amulet which gives him demigod-like powers, but at a terrible cost; and The Surgeon is a doctor, scarred at the hands of evil-doers, who uses his medical knowledge to advance his somewhat psychotic vigilante agenda."
Despite similar goals, however, not all encounters between these players will necessarily result in crime fighting partnerships.
"While [The Operative] has a clearly defined sense of what he considers right and wrong, he's not a team player, and though his quest leads him to others who are also on the run, and also in search of justice, he doesn't particularly want to work with them," notes Liss.
Creating all new citizens of the Marvel Universe required both writer and artist to rise to the occasion.
"The biggest challenge was to come up with characters that were both original and also felt right for a pulp story," Liss discloses. "We felt strongly that this early generation of Marvel heroes should be organic—which is to say, they decided to put on costumes and fight crime because circumstances drew them into doing just that; so several of them have costumes or disguises or abilities that stem from their pre-vigilante lives."
"[Editor] Bill [Rosemann] and David really entrusted me with creating the look of the characters," Zircher continues. "At the same time, the Mystery Men were definitely written to evoke classic characters of the pulp era, the early Golden Age of comics, and movie serials.  In addition to pulp and comic material, their costumes were fleshed out after browsing through fashion, advertising, and illustration books of the 30's.  Just as importantly, the right color schemes were necessary to bring to mind a classic feel."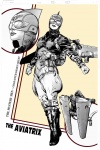 The Aviatrix design by Patrick Zircher
In the end, all the effort seems worth it, as judged by Rosemann.
"[Liss's] ability to make past eras seem new, to create fascinating heroes, to place you right in the middle of great historical moments, and to keep you on the edge of your seat all the while is a beauty to behold," he boasts. "Patrick is not only a maestro of composition, detail and drama, but—like David—is a master at making prior eras live and breathe. Add them together and you have your perfect guides through the gritty, sexy and thrilling streets of 1930's New York City which will hopefully add to the great ongoing story that is the Marvel Universe."
For more news, live reports, photos, videos and more from the 2011 Chicago Comics & Entertainment Expo, stay tuned to Marvel.com all weekend! And to really keep up, get the Marvel Events App!