By Tim Stevens
To Commander Rogers,
This is the last summary note for "Sin" before her escape. I'm not sure what you are looking for, but I do hope this helps.
Regards…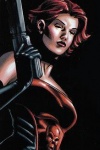 Sin prior to her accident
Synthia Schmidt is seemingly a young adult female of above average physical fitness. Due to a history that reportedly involves at least one incident of rapid aging and at least one incident of age regression, the client's true age and/or developmental era is difficult to estimate. Additionally, Schmidt has proven no help, due to some still existing memory gaps and a general unwillingness to cooperate. The client has also been badly scarred by a recent explosion, leaving her face resembling that of her supposed father, the Nazi villain known as The Red Skull. This, too, interferes with any kind of accurate estimate of age.
In session, Schmidt, who has repeatedly demanded to be called Sin, presents with a wide range of affects, most being very confrontational. She has been obstinately evasive, seductive, threatening, deceptive, and taunting to name but a few observed. Recently, however, she has appeared to be more willing to work with staff.
This writer warns about interpreting this recent shift in attitude as a sign of a breakthrough or of the development of a strong therapeutic relationship. Instead, it is my assertion that what is happening now is either an overcorrection of past behaviors or yet another attempt at manipulation. Initially the client denied any disorders or traumas at all and now she is endorsing them all. The results of her recent Structured Interview of Reported Symptoms (SIRS) test indicate some malingering, which would reinforce this interpretation. Additional evidence of this includes her refusal of any and all treatment goals including "increasing honesty" and "ceasing violent acts."
That said this writer is also hesitant to call for the complete discount of what the client has disclosed. Instead, at this time, they should be viewed skeptically but still noted.
According to client self-report, she was aware of, from an early age, her father's disappointment in her gender while still being raised to follow in his footsteps and embrace his belief structure. She denies any resentment from knowing The Red Skull did want her, claiming only that it inspired her to work as hard as possible to earn his love and respect.
Schmidt says that eventually this led to her accelerated aging and her first time "working for the ideals of purity." She was unable to succeed and was apparently de-aged a bit at some point. Eventually was taken in by S.H.I.E.L.D. and put through a process she describes as "brainwashing." The writer was able to verify aspects of this story although government officials insist she was "deprogrammed" not brainwashed.
The client lived in this state for years before being abducted and tortured until she returned to her previous personality state. She initially characterized this as a "return to reality." Currently, she claims to feel differently, but, again, this writer can only remain cautiously optimistic about what this may mean for her taking responsibility for past actions and/or committing to further therapy.
At this time, even with the seeming improvements in her disposition, she remains treatment resistant, unwilling to do homework or commit to goals. She also refuses psychiatric and physical assessments, claiming she has no interest in surgical or pharmaceutical interventions.
Synthia Schmidt's next appointment is scheduled with Doctors Mark Gruenwald, Jim McCann, Rich Buckler, Al Milgrom, and Stefano Landini on April 20. Please review the file marked FEAR ITSELF: SIN'S PAST #1 for further details on that session.
Psy D. Candidate Tim Stevens, MA is a Practicum Trainee at a Federal Correctional Institute and a Dialectical Behavior Therapy Consultant who has experience working with clients in a forensic setting.