Canada's greatest super team soars back into the spotlight this summer and wastes no time inserting themselves in the midst of
Fear Itself
when an all-new ALPHA FLIGHT #1 from writers Greg Pak and Fred Van Lente along with artist Dale Eaglesham hits on June 8.

To get ready for this
monumental return to form
for these Marvel stalwarts, native Canuck Eaglesham kindly shared with us his personal sketches and notes that he used to reimagine the Alphans for 2011. Today we take a look at Namor's one-time bride, the aquatic alien, Marrina.


"The very first sketch I went for a punk look but it's a streamlined punk with nothing too outrageous. Semi-torn shirt and tattoos, but somehow came off as too adult; too in control. Marrina is a live wire and very impulsive."
"This sketch was about the hair; building from the previous, cute tomboyish and a tad more reserved one, this version is a more forceful statement and more to type. Modern punk/goth with piercings. Wilder. Yeah, now we're starting to see the real Marrina. This is the head we went with."
"The ripped top look bordered on being a dated punk look so I set out to create the torn clothing look without it being torn clothing. This is a seaweed based outfit and no, it wouldn't have dried up out of the water because this seaweed is alive! Didn't seem appropriate for all occasions, though, so we scrapped it."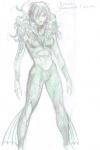 "The look is emerging. A decadent faux-fur, if you will, of living seaweed. Marrina is nudged to the side of 'wild child' with this collar but because it looks like a fur collar it also imparts a sense of cultured decadence to her. The collar can assume different shapes. It's unpredictable, just like her. Impulsive, creative, evolving but distrustful as any animal would be. Once you get to know her, she is the most loyal, amazing friend you could ever have."
"Scaling the collar back a tad but it made it more provocative, exposing more chest. She won't always want that and it will change according to her moods. What on earth is that collar? We'll see. A bigger collar was borderline feathered boa, and we sure don't want to evoke Phyllis Diller for Marrina. We get a streamlined, scaled suit that is vaguely cyber-punk with fins on the legs that will flare out when she swims, creating an image of a mermaid. This is the one. She's dangerous, explosive, moody."
"One of those stages where you are just flopping around hoping the dust will kick up an interesting idea. Simple but stylized; a little too contrived. Again, it didn't seem to fit all occasions."
"Sea turtles are what she has tattoos of. Seems contradictory given her personality, doesn't it? Sea turtles are gentle, long-living creatures and she loves to swim with them."
Join us again tomorrow, when Dale unveils his designs for Guardian, Northstar, Aurora, Snowbird and more!