By Jim Beard
Accidents happen.
Despite the hard work and the very best intentions of creative teams and production staffs, sometimes a goof slips through. Take the unlettered page found in ULTIMATE COMICS X #4, currently on the stands, of which we sought out writer Jeph Loeb himself for an explanation.
"S.H.I.E.L.D.," he says, simply. "Classified. Nasty Nick Fury."
We tried again, this time pressing him for the real story behind the adorned page.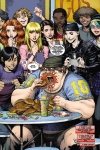 ULTIMATE COMICS X #4 art by Arthur Adams with lettering
"Oh, the real story," responds Loeb. "Well, this book is so late that we rushed to get it out—and forgot to letter the page! Actually, this is one of those rare moments where we simply messed up. Two files—one lettered, one not, and the wrong one got through—and by the time it was discovered, it was too late to fix—for now. Please rest assured that it will be fixed in the collection—or if we're lucky enough to sell out, in the next printing. So get this rare edition now!"
It must be an interesting situation, despite the fumble, for a writer to see a page they've written actually wind up in a published book sans the words. It begs the question: Does Jeph Loeb mouth the words he knows should be there while looking at the simple beauty of Arthur Adams' page? And are there any regrets?
"We all love Arthur's artwork and Peter [Steigerwald's] colors so much that it's hard to cover it up, even with all those pesky word balloons and narration boxes," he notes. "But, for the story, it would be great to have what Richard Starkings and his uncanny Comicraftsman Albert Dechesne originally created."
Thinking about silent comics, what would the writer like to do if he and Adams were unfettered by letters and given room to sprawl?
"The problem and the joy of working with Arthur is that he can draw anything both elegantly and spectacularly," says Loeb. "If it had to be silent...grrrr...! My guess is we'd all love see something with Longshot in it; so maybe a Hulk vs Longshot battle sequence that ended more with them being friends?  Maybe a hint of the Lion and The Mouse where the Mouse pulls the thorn from the Lion's paw…hey! I'll get right on that! Thanks!"
Letting bygones be bygones, the writer couldn't be more thrilled about ULTIMATE COMICS X and most especially one particular feature of the critically-acclaimed series.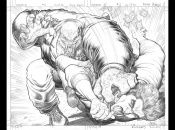 ULTIMATE COMICS X #5 preview pencils by Arthur Adams
"Bringing it all home," he enthuses. "Arthur has done an amazing job and together we get to wrap it up, answer all the questions posed: like what is 'Ultimate X?'"
And when you get Jeph Loeb talking about his Ultimate baby, he can't help but drop a few upcoming tidbits that readers should be getting pretty jazzed about—and deliver a special message for all the ULTIMATE COMICS X fans:
"The Hulk! And the first Sabretooth vs. Jimmy Hudson—Wolverine's son—battle, and it ends badly for one of them!
"The readers and fans have been sooo wonderful about supporting the book. Thank you!"