Photos courtesy of World Wrestling Entertainment
By Ben Morse
Over the past decade, The Miz has been a reality TV star, a bonafide superstar in World Wrestling Entertainment, and just last year achieved the milestone of becoming the WWE Champion. There's seemingly nothing this Ohio native can't accomplish, but he still continues to dream even bigger: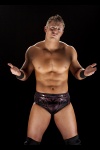 The Miz
"I would love to be Captain America," he reveals. "Nobody says America like the WWE champion The Miz. Have a huge shield, the blue outfit—I mean, my eyes would pop [in] that sucker."
This Sunday on pay-per-view, The Miz heads into WrestleMania XXVII, WWE's biggest event of the year, where he will defend his championship against John Cena in one of the marquee matches of the evening. Looming over the confrontation will be the presence of The Rock, the WWE legend-turned-movie star who will serve as the event's host and has gotten into verbal and physical confrontations with both Miz and Cena over the past several weeks.
"When The Rock first came [back to WWE], he called out John Cena," says The Miz. "I was a little upset about that, because I'm the WWE Champion, I'm the person everyone should be going after, but Rock's going after Cena? Everyone said, 'The Miz is getting overshadowed, because Cena's only paying attention to The Rock now,' but I left [Cena] down and out four weeks in a row, basically bringing all the attention back to me, because that's what a WWE champion does. He knows how to take two icons and make them the side story rather than the story."
Miz, a major fan of Marvel's film efforts, perhaps learned a thing or two about keeping the spotlight from a certain Armored Avenger and his buddies.
"I think Robert Downey Jr. is incredible," notes the self-proclaimed "Most Must-See WWE Champion of All-Time" giving his endorsement of the big screen Iron Man. "In Marvel movies you're usually so gung ho about the action you forget that you have to be a very good actor to play these roles. [Downey] really knows how to do it and makes it such an incredible movie to match.

The Miz torments Evan Bourne
"At the end of 'Iron Man,' putting Samuel L. Jackson in there [as Nick Fury], that created excitement, which is what Marvel's always been about. Everyone always looks forward to those summer blockbusters Marvel puts out. They never fail to impress. I'm excited about movies that aren't going to happen for two years!"
While he's waiting for "The Avengers," Miz has another more immediate Marvel movie on the brain, though he does feel one additional element could improve it: Him.
"I'm excited for 'Thor,'" he says. "I wanted to be Thor, to be honest. I wondered who was going to play him. [I figured they needed] a tall, blond, kind of big, muscular guy—who are they gonna get? Maybe they should get The Miz. But no, you chose [Chris Hemsworth]. Which, ok, I get it, I understand, I dig it. The last time I remember Thor in a movie was 'Adventures in Babysitting.'"
Before he purchases his ticket for 'Thor' or any other Marvel feature, however, Miz must still get through John Cena, The Rock and the biggest match of his career to date.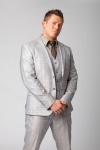 The Miz is Awesome
"Last year was my first WrestleMania on the show and I [won], so I'm undefeated," the champ brags. "Now not only do I have the pressure of being in a marquee match, being the main event, going against John Cena for the WWE championship, but I have my undefeated streak to think about as well."
So once the bell rings in Atlanta, Georgia this Sunday, what should the WWE Universe be looking for from their champion?
"Expect the unexpected," promises Miz. "I am The Miz, I am the WWE Champion. I'm going to steal the show. Everyone will be talking about The Miz after WrestleMania XVII. They're not going to be talking about Undertaker and [Triple H], they're not going to be talking about Snooki being involved, they're not going to be talking about The Rock or John Cena; they're going to talk about The Miz being victorious at WrestleMania XVII and retaining his WWE Championship."
Make Mine Awesome
While we had The Miz on the line, we couldn't help but ask for his advice on how to make Marvel's most awesome heroes even more so, given his standing as probably the world's leading expert in such matters. Check out what he suggested
Iron Man
"Tony Stark is an incredible dresser. He's completely the type of guy that everyone would want to be. He's a genius, he gets all the chicks, he's rich; he's got it all. What could make Tony Stark more awesome? Maybe he needs to come to the WWE and try to [win] a WWE championship and that will make him more awesome, because let's face it: You can't buy a WWE championship, you have to earn it."
Spider-Man
"Make him not a nerd. How about that? Make Spider-Man not a nerd. That's a perfect way to make him more awesome."
The Hulk
"Let's face it: How many girls are gonna like a big, humongous green guy? I would like to make him less of a slob. I mean, if he's gonna be that big, he should know how to wear clothes, not just purple cutaway sweatpants. Try to find a suit. There are definitely tailors out there who could fit a suit to his liking. There's spandex. It stretches. Find a material that makes you look good!
Wolverine
"Let's do something with the hair. I mean, he has almost like two faux-hawks side-by-side. Let's make it one. Let's do something trendy, something cool, something snappy, something good. He looks like the singer from A Flock of Seagulls. I didn't think that was cool in the 80's."
You can see WWE WrestleMania XXVII live on pay-per-view starting at 7:00 PM EST this Sunday, April 3. To learn more about Miz and WWE, be sure to visit our friends at WWE.com and while you're there check out their special WrestleMania site!