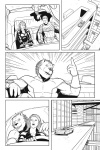 SECRET AVENGERS #16 black and white preview art by Jamie McKelvie
By Ben Morse
Though Steve Rogers will remain the leader of the Secret Avengers for the foreseeable future, this summer he'll be taking his own orders from a new commanding officer: the one and only Warren Ellis!
Beginning with SECRET AVENGERS #16—following an three-issue Fear Itself tie-in arc by Nick Spencer and Scot Eaton—Ellis will bring a new direction to the title Ed Brubaker kicked off last year featuring the black ops exploits of the original Captain America and his handpicked team.
"When Ed first told me about [SECRET AVENGERS], he described it as the Marvel Universe's fusion of G.I. Joe and my own Global Frequency," the writer shares. "So, when the book was offered to me, I thought it would be fun to take it right back to Global Frequency, which was told as 12 self-contained single issues. I like the idea of there being a few books out there that don't require you to commit to buying another five issues to find out how the story ends."
"In Warren's run, each issue will be a high octane adventure hyper-compressed into a single installment," echoes Marvel Senior VP of Publishing and SECRET AVENGERS editor Tom Brevoort. "We're essentially giving you the 20 most exciting minutes of the movie and catching you up with the intricacies of the plot on the fly."
Just as Steve Rogers handpicked Bucky Barnes to succeed him as Captain America, so too did the man who created SECRET AVENGERS directly select who would follow his initial efforts.
"This was Ed's idea," says Brevoort. "He reached out to Warren to gauge interest then told me that I should speak to him."
Though the artist will shift with each issue of SECRET AVENGERS—with Jamie McKelvie kicking off the rotation—Ellis will retain Brubaker's full cast, albeit in varying formations.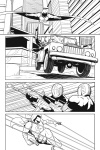 SECRET AVENGERS #16 black and white preview art by Jamie McKelvie
"I'll only be using a few of them in each story, with Steve Rogers as the anchor of every issue," he explains. "With self-contained single issues, a large cast gets in the way of itself pretty quickly. So the first one is just Steve, Black Widow, Moon Knight and Henry McCoy [aka The Beast]. The second is Steve, Sharon Carter, War Machine and Valkyrie."
So what does Ellis consider the team's mission statement and their place in the larger landscape of the Marvel Universe?
"It's right on the front page [of] my first issue: RUN THE MISSION / DON'T GET SEEN / SAVE THE WORLD. As far as I'm concerned, SECRET AVENGERS is what it says on the tin, [and that's] the people who avenge the crimes that no-one ever found out about."

Keep following Marvel.com all weekend long for the latest news, videos, photos, liveblogs and more from WonderCon 2011!