By Jim Beard
July brings the villain of this summer's "Captain America: The First Avenger" film to the forefront in his very own book. RED SKULL, a five-issue limited series, will delve deep into the past of one of the biggest baddies Marvel's ever produced and illustrate his personal path to ultimate evil in the years leading up to World War II. Writer Greg Pak serves up a few clues as to what readers may expect from the tale.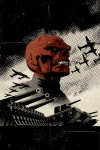 RED SKULL cover art by David Aja
"The story begins in Munich in 1923 and follows an orphan named Johann Schmidt as he claws his way through a world of soul-crushing economic crisis, political chaos, assassinations in the street, and the rising threat of the Nazi Party," he explains. "It's a historical epic, a political thriller, and the chilling story of the birth of a monster all in one. And as Johann rises, we'll see how a nation so often considered the most civilized and cultured in Europe slides towards fascism and the utter horror of Nazi rule.
"The book is also the definitive origin of the Red Skull, Captain America's greatest nemesis. So Cap fans and Marvel Universe fans definitely won't want to miss it."
Series starring super villains usually rank as rare moments in comics history, a fact that Pak acknowledges as he readies himself to unleash The Red Skull and his own haunted history on readers.
"Because of the unfathomably horrific crimes of their real-world counterparts, some of the most terrifying fictional villains of all time have been Nazis," he says. "And The Red Skull's not just a Nazi, he's Hitler's hand-picked super-Nazi. And his visual design is iconic, entirely representative of the essence of the character, and genuinely terrifying.

"From 'Faustus' to 'The Godfather,' stories about characters who lose their souls have always been compelling. Without spoiling too much, I'll just say that I've been doing a lot of reading about the early lives of murders and serial killers, and there's a process to becoming a monster. Is [Johann] evil from the beginning? You'll have to read the story to find out. But we'll be following him through his critical early years, which not coincidentally are the critical early years in the rise of the Nazi Party."
Such a story also calls for plenty of historical research, something this writer's no stranger to. In addition, RED SKULL also connects with one of his most acclaimed past projects.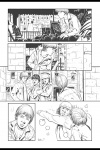 RED SKULL black and white preview art by Mirko Colak
"I did a huge amount of research about the rise of the Nazis and the Holocaust for X-MEN: MAGNETO - TESTAMENT a couple of years ago, which followed a young German Jewish boy named Max Eisenhardt as he struggled to save his family from the Final Solution," Pak notes. "TESTAMENT was one of the most difficult and rewarding creative projects I've ever undertaken. RED SKULL is giving me the chance to build on that research, delving into an earlier period in the history of the Nazis and looking at it from the other side. And just as with TESTAMENT, we're doing our very best to treat the material with respect it demands and render the historical details as accurately as possible. I ended up with six feet of books for TESTAMENT; I've added another four for RED SKULL.
"When [Marvel Senior VP of Publishing] Tom Brevoort first approached me about RED SKULL, he described it as a kind of bookend to TESTAMENT that would look at the time period from characters on the other side, and I was immediately hooked. The more I've worked on the project with ace editor Alejandro Arbona, the clearer it became that the books fit together in another way, with RED SKULL depicting everyday life during the Weimar Republic as the Nazis were clawing their way to power and TESTAMENT picking up the story from 1935 onward as the Nazis implemented the Final Solution. It's a pretty unbelievable opportunity to do this kind of work on two different projects in the context of super hero comics. I'm hugely grateful to [TESTAMENT editor] Warren [Simons], Tom, [Marvel Editor-in-Chief] Axel [Alonso], and Alejandro for pulling me on board; and to all the readers and reviewers who supported TESTAMENT so strongly—you're the best!"
RED SKULL's full creative team boasts not only Pak but rising artistic star Mirko Colak of SECRET WARRIORS fame, and David Aja on covers. It's a crew that the writer's thrilled to be working with.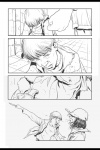 RED SKULL black and white preview art by Mirko Colak
"Mirko's art is just stunning," says Pak. "He draws with a clean, fluid line that reminds me of Jeff Smith. But Mirko's bringing his own special kind of gritty realism and atmosphere that a historical book like this benefits from enormously. He also has a real understanding of young characters and the emotional dynamics in the book. We're also enormously lucky to have June Chung coloring. June's sensitivity really makes this style of art breathe. And of course there are the utterly chilling covers by David Aja. I can't be more excited that we're finally showing the whole art team's work off to the world.
"Incidentally, Mirko, David, Alejandro and I are all on Twitter. Follow @gregpak @colakmirko @alejandrobot and @davaja for the latest!"
Keep following Marvel.com all weekend long for the latest news, videos, photos, liveblogs and more from WonderCon 2011!