By Tim Stevens
Dear Commander,
Per the conversation at staff meeting, I have located my exit interview notes for each graduate and included them. Again, though, I must stress that as I have not met with any of them in some time, these notes may not paint a complete picture of their current mental state. Nonetheless, I hope it provides some helpful information.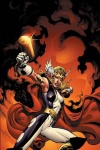 Thor Girl
Thor Girl: Tarene presented as calm and composed throughout her interview. She repeatedly stated her ongoing commitment to serving with Georgia's Calvary and expressed her appreciation for both her training and being given a role with that team.
However, she also demonstrated an unwillingness to discuss recent events in any detail, providing evasive answers, no answers, or claiming she could not recall information. This is especially the case regarding her time as a prisoner of the Skrulls. She cannot recall when she was first taken making it difficult to establish what events actually involved her. For instance, either she or her Skrull counterpart was severely beaten by KIA. However, without accurate reporting of her abduction, it is impossible to say if this did not happen to her, thus explaining her inability to recall it, or if it did but was so traumatic that her mind has "forgotten" it until she is better able to process the event.
Additionally, the client had previously expressed possible transference feelings for the Initiative counselor Terrence Ward (Trauma). In this interview, though, she refused to confirm if it was her or her Skrull replacement that said and/or experienced these emotions.
A summation of the client is unadvisable to provide at this time without first establishing her abduction timeline. At this point, this writer only feels comfortable in saying that Tarene's commitment to the Calvary appears authentic and that she appears to not present an imminent safety threat.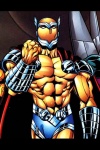 Prodigy
Prodigy: Ritchie Gilmore appeared to be a very changed man from when he first arrived at Camp Hammond. Then, he was angry and resentful of the situation he found himself in. Although he denied it, there were also indications of shame and embarrassment stemming from the events that had led to his forced enrollment. Then, he had indicated feelings of helplessness and cynicism.
During the interview, however, he presented as content and proud. He was looking forward to an upcoming speaking tour and expressed optimism at the possibility of reuniting with his still living former Slingers teammates.
He was not entirely happy, however, which, in this writer's estimation, makes all his emotions—positive and negative—appear to be authentic. For instance, he expressed disappointment and sadness over the fact that Eddie McDonough (Hornet) died before the client had a chance to reconnect with him and his affect matched his words.
One possible problem area is Gilmore's continued denial of any issues with alcohol, insisting that his public drunkenness was an isolated incident, not an indication of a struggle with sobriety. He refused referrals to outpatient substance abuse treatment centers or information about Alcoholics Anonymous meetings in his area, but this writer made it clear that the information would be available to him if he changed his mind at any time.

Cloud 9
Cloud 9: There was some concern amongst administrators when Abigail Boylen first came to Camp Hammond that she was too "emotionally open" to graduate from basic training and be placed with a team. Somewhere along the way, that concern was replaced by a fear that she was too cold and disconnected from her emotions.
The client, for her part, felt this dialectic and admitted it was at least part of her decision to leave the Initiative and the business of being a costumed hero. She indicated that she had a desire to help others, but that she found herself uncomfortable with what being a hero seemed to entail. She expressed frustration at what she perceived as the mixed messages of the Initiative telling her to be analytic and logical and then, seemingly immediately after she accepted this direction, imploring her to not keep her feelings bottled up.
Boylen, as evidenced by both her statements and her presentation, had much ambivalence about her time with the Initiative and future uses for her abilities. While she accepted a referral to another therapist in her hometown, she confessed that she felt it was unlikely that she would visit in the short-term and, perhaps, ever.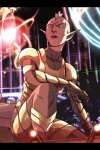 Komodo
Komodo: Melati Kusuma presented with an overwhelming affect of bitterness. She responded to questions in a clipped tone, was often sarcastic, and repeatedly expressed her disinterest in being involved with "these people"—the Initiative, presumably.
She refused to discuss her relationship with Roger Brokeridge (Hardball) or her activities with the Shadow Initiative. Attempts to discuss her feelings about living without her powers were rebuffed and she would not entertain the idea of balancing a life as Komodo—with her lizard abilities engaged—and as Kusuma, without them. Even attempts to explore how she felt about living and surviving a disability were not of interest to her. She also declined any referrals for further therapy.
Overall, the client was obstinate and uncooperative but it remained clear that she had been hurt and betrayed by both Brokeridge and the Initiative's actions.

Hardball
Hardball: Roger Brokeridge proved the most difficult of this group to interview. He often referred this writer to his legal counsel for answers to questions despite repeated explanations of the purpose of the exit interview and the inability for any of the information to be used against him in civil or criminal court.
He briefly opened up when Melati Kusuma (Komodo) was discussed but seemed to realize this and visibly withdrew back into a flat affective state. On questions about his brother, the client would pretend not to hear or to whistle to himself until this writer asked a different question. Due to this refusal to cooperate, this writer cannot draw any conclusions about the client's emotional or psychological state or begin to give any indication of future dangerousness.
Please refer to Doctors Sean McKeever and Mike Norton's notes on these graduates for further information. They are set to be declassified on May 11 and can be found in file FEAR ITSELF: YOUTH IN REVOLT #1.
Psy D. Candidate Tim Stevens, MA is a Dialectical Behavior Therapy Consultant and Doctoral Intern at a Federal Correctional Institute.