By Chris Arrant
He's the freshest face in the writer's room at the House of Ideas, and he's not stopping until he's won over every reader in comics.
In part one of our interview with writer Nick Spencer, he went into detail about his back-to-basics approach to War Machine in IRON MAN 2.0 and about his own quick rise to fame. In this second half, Spencer pulls back the shroud on his four-issue guest-arc writing SECRET AVENGERS and talks the best he can about his next top-secret project.
We also delve into Spencer's own secret history as he discusses the project he pitched to Marvel over 10 years ago as a college student.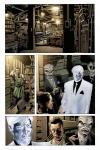 Secret Avengers #12.1 preview art by Scot Eaton
Marvel.com: Your second major project at Marvel sees you follow War Machine into SECRET AVENGERS. You're doing the Point One issue, SECRET AVENGERS #12.1, and then three after that before Warren Ellis takes over. What's it like filling in piece between Ed Brubaker and Warren Ellis?
Nick Spencer: I knew from day one that my assignment was just for these four issues. In a lot of ways it became liberating because I knew who I followed and who was coming next. They're both giants and legends of the industry, and I've admired both their works over the years. It's a really cool moment to be the bridge between their runs. I think what Scot Eaton and I have done with our four issues is create a real close tie-in to what Matt [Fraction is] doing on FEAR ITSELF. I really believe in what he's doing there, and the reviews coming out show what an enthusiastic response it's getting. Readers are just now discovering this, but everyone involved in the tie-ins and plans for Fear Itself knew how special this book really is and I wanted to be a part of it with SECRET AVENGERS as much as I could.
When Tom Brevoort approached me about the assignment he said I could do a real close tie-in or a distant tie-in, saying "it's entirely up to you." I immediately wanted to be as close to the front lines as I could. Our issues of SECRET AVENGERS are taking some of the big splash page moments and revelations of FEAR ITSELF and taking 22 pages to look at them through the eyes of a member of the Secret Avengers. There are some characters that will be dramatically altered by Fear Itself in the Secret Avengers line-up, so I wanted to spend some time seeing it through their eyes; to really be there with them for these moments.
Our issues are spotlights on Beast, Valkyrie and The Black Widow and I'm really proud of how they're coming together. They fall in line with what Fear Itself is all about; not just in terms of the plot points, but the environment Matt and Stuart Immonen have built there.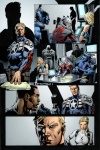 Secret Avengers #12.1 preview art by Scot Eaton
Marvel.com: Although you're no stranger to ensemble casts, the Secret Avengers are definitely heavyweights. How do you balance them and carry through an overall story?
Nick Spencer: The Point One issue in-particular involves the entire cast. At its heart it's a Steve Rogers story, but the entire cast plays a role in it. For me I don't struggle so much with ensembles of team books because I tend to immediately think about how characters interact with each other. I don't want to isolate them in spotlight issues with one character going solo. Our spotlight issues focus on one character and how they fit in with the others. That's part of the fun of writing: to see how characters face each other and talk.
There have been some relationships in SECRET AVENGERS that I've really grown fascinated by. I like writing War Machine and Ant Man together; they've become our Rosencrantz and Guildenstern. I've also gotten very interested in the relationship between Valkyrie and Black Widow. These things naturally occur within the story, and these characters just keep bumping into each other.
Marvel.com: With all this work, you signed an exclusive agreement with Marvel back in March and Tom Brevoort is on record stating you have some more work up your sleeve. I know it's a little early to talk about what's next, but can you give us an outline of what you're doing in the future?
Nick Spencer: When I got to Marvel, sitting down with the editors—C.B. Cebulski, Joe Quesada, Axel Alonso, Tom Brevoort, Steve Wacker and a lot of the lead editors at Marvel—[they] asked me what kinds of stories or characters got me excited. They asked if I preferred to be on the front lines of the big events or stay outside of that and play off on my own. I was immediate and emphatic about wanting to be a part of those shared stories and events like Fear Itself. What drew me to Marvel were the collaborative efforts going on in the retreats and day-to-day. There's a close collaboration between the writers on various books, as well as between the writer and artist on those books. It's something unique to Marvel, and true to their word they've put me in as a real part of the big event storylines for Fear Itself and moving forward. Marvel has several big initiatives launching later this year, and in each of them I've got some involvement. It could not be any more rewarding.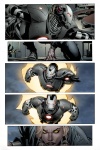 Secret Avengers #12.1 preview art by Scot Eaton
I can't talk about specific projects just yet, but they're big. They're books people are going to talk a lot about, and I'm working with some big name guys. I'm in on the conference calls and shooting around ideas with the guys who are my heroes, and working with artists that I've always dreamed of working with. It's going to be a real exciting second half of the year for me. I've got a lot of stuff lined up for awhile that I can't talk about just yet.
Marvel.com: It seems a lot of your work revolves around secrets, from your upcoming arc on SECRET AVENGERS to your own Morning Glories series. But the most secret of all is your origin: You first approached Marvel back in 1998 with several pitches for Joe Quesada when he ran Marvel Knights. Can you tell us about that?
Nick Spencer: It's funny. I [can't] describe two of them because I can't quite remember, but the third proposal centered [around] Black Cat. I remember that because Joe said at the time he kind of liked it. I pitched a very Tarantino-esque story where Felicia got deep into the criminal underground of Spider-Man's world. I liked Felicia—she's a really cool character.
Marvel.com: That being said, any chance you could revisit the character now that you're working for Marvel?
Nick Spencer: You never know. I think the story I had back then really ages well, so we'll see.
But getting back to your point, my experience back then became more about the positive feelings they gave me. Joe and Jimmy Palmiotti were really kind to those pitches. Between that and growing up in the same hometown as David Mack, it really expanded how I view Marvel. Mack is good friends with both Joe and Brian Michael Bendis then and now, and watching those guys work together really hit me for the camaraderie involved. When I had my first sit-down with Joe, something felt really right about being there. Not to get sentimental, but working at Marvel felt like the right thing to do; it felt like a natural progression of what I'd been doing. It's really cool to look back when I attended college and pitched to Marvel, especially when you factored in how I ended up here years later.