By Jim Beard
Writer Jack C. Harris got a fun and very welcome surprise when he learned that a long-lost story of his originally intended for MARVEL TEAM-UP, finally ended up on the schedule years later!
HUMAN TORCH & HULK: FROM THE MARVEL VAULT #1, on sale June 29, brings to light a classic tale of the two titans written by Harris with art from one of the original architects of the Marvel Universe, Steve Ditko.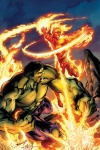 Human Torch & Hulk: From The Marvel Vault #1 cover by Mark Bagley
"I first got wind of [this project's] pending publication when a number of people started mentioning it on Facebook," Harris reports. "I was—and am—thrilled. Somewhere in my storage unit, I have copies of Steve's pencils for the story. He did a fantastic job, as I recall, and I always loved Steve's version of the Hulk. I still have my copy of INCREDIBLE HULK #6 bought off the newsstands! It will be great to see the Ditko Hulk once again."
The genesis of this story goes back decades, but Harris still remembers most of the pertinent details:
"If I recall, they had already lined up Steve Ditko to do an issue of MARVEL TEAM-UP, but I can't remember if they had already slated the Torch or The Hulk. Whichever one was already planned, I remember that I pitched the other one for the team-up. I am assuming it was the Torch, so I guess I suggested the Hulk team-up.
"I also remember discussing which villain I could use by going through a list of the ones that were already being scheduled and crossing them off. The Wizard was tagged as available and as one I really liked. The Frightful Four had been one of my favorite teams of Fantastic Four foes. The story is about the Torch, with The Hulk as a surprise 'guest,' so I remember concentrating on Johnny more than the Hulk, although I do recall making sure there was a good and logical reason for Bruce Banner to be on scene at the lab."
Looking back through the mists of time, the writer sees elements of the tale that still please him to this day, making its publication now even sweeter. The recent demise of Johnny Storm also makes HUMAN TORCH & HULK: FROM THE MARVEL VAULT #1 a poignant reminder of the Torch's glory days as a premiere Marvel hero.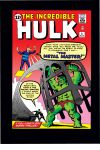 Steve Ditko's Hulk
"I remember one of the things in the original plot was that Mr. Fantastic thought the Torch needed some training to learn some responsibility since he was an important member of the business side of the Fantastic Four," Harris recalls. "So, Reed sent Johnny off to a lab to represent the FF's interests on the technical side of whatever was going on [there]. I thought it was one of the more interesting takes on the character of the Torch and his relationship with his brother-in-law."
As mentioned, the book features art by Steve Ditko, giving readers one more amazing opportunity to view his work with the Marvel characters. Harris feels the same way and reminisces about his relationship with the exciting and enigmatic illustrator.
"Steve and I did lots and lots of work together," he notes. "We had been sort of thrown together over at DC and we did a number of mystery and anthology stories together. I still have a set of Steve's originals from some of those stories he gave me as a gift. I loved working with Steve. One of my favorite things about working with him is that he has a black-and-white opinion about everything; he either is totally for it, or totally against it and his principles are iron clad. If you work out a good concept with him, he'll support it to the max, and put in nothing but a full effort. We actually created a half a dozen proposals for various publishers that the public has never seen. Someday, I'll dig out his original sketches for them and stun the world.
"I haven't been in touch with Steve in quite some time, but with the publication of HUMAN TORCH& HULK: FROM THE MARVEL VAULT, I really should give him a call."