By Ben Morse
It's been months since T'Challa of Wakanda settled in Hell's Kitchen and became the star of BLACK PANTHER: THE MAN WITHOUT FEAR, yet thanks to writer David Liss, the former king has remained on his toes every step of the way.
Paired with artist Francesco Francavilla, Liss has challenged his protagonist not only with a unique new nemesis in Vlad the Impaler, but a vast supporting cast that may not be completely trustworthy, heroic peers who won't leave him to his business, and the sting of not being able to save all those he seeks to protect. T'Challa's war with Vlad will conclude one way or another in BLACK PANTHER: THE MAN WITHOUT FEAR #518, on sale May 11, but he'll have little time to rest before he faces the return of his wife Storm and his first ever meeting with Kraven The Hunter the next month as guest artist Jefte Palo steps in for the two-part "Storm Hunter" arc.
Liss joined us to reflect on what changes The Black Panther has undergone and what unique challenges will fill his future.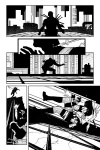 Black Panther: The Man Without Fear #519 black and white preview art by Jefte Palo
Marvel.com: With one issue remaining in your first arc on BLACK PANTHER: THE MAN WITHOUT FEAR, how do you feel T'Challa is a changed character even from when you started writing him a few months ago?
David Liss: Over these issues, T'Challa has been facing his limitations and figuring out ways to surpass them.  He's had to discover new ways to do things and new approaches to face unexpected challenges.  After the events of DOOMWAR that brought him, however indirectly, to Hell's Kitchen, T'Challa has regained much of his old confidence and swagger.
Marvel.com: Can a man with the experience and wisdom of The Black Panther still learn lessons at this stage in the game? If so, how has this realization affected T'Challa?
David Liss: Once these characters stop learning lessons then there's probably no point in writing or reading about them.  Captain America has been around 70 years, and his character continues to grow and evolve.  Black Panther is a fairly stubborn person, and so sometimes he can be his own worst enemy, but he chose to take on the role of defender of Hell's Kitchen, and he's been very aware of the need to solve problems in new ways.  I've loved getting to write a super hero in the process of relearning how to be amazing.
Marvel.com: What will we see from T'Challa moving forward that we may not have in the past?
David Liss: Future arcs will show T'Challa more confident in his new role.  He will recognize the need to embrace more of his old way of doing things.  The next couple of stories are going to show why, even without his powers and his tech, he's still the most dangerous man in the Marvel Universe.
Marvel.com: On the flip side, you created an instantly imposing villain in Vlad the Impaler, but even he is not the same man we met just recently. How has Vlad changed over this arc and how has his journey paralleled or contrasted against T'Challa's own?
David Liss: Vlad's has been on a very different course than T'Challa.  When we first meet Vlad, he is determined to be an honorable criminal, to operate his empire using loftier principles than his predecessors, and not to be drawn into a grudge match with a costumed hero.  But the rug gets pulled out from under Vlad, and beginning with issue #515, he finds it increasingly hard to remain the man he's tried to be.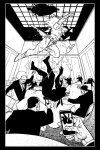 Black Panther: The Man Without Fear #519 black and white preview art by Jefte Palo
Marvel.com: Why is there such a primal and intense feud between T'Challa and Vlad? Is it just the circumstances—could it have happened with Vlad and Daredevil—or is there something about how they match up against one another?
David Liss: I don't see it as something to do with who they are in some fundamental way.  Rather, it is a matter of timing.  After a lifetime of subservience to other crime lords, Vlad is ready to step up and be the boss, but that is the exact moment the Panther shows up, and he's determined not to let a man like Vlad rise to power.  From the beginning, they each recognize there can be no coexistence.  It doesn't help that they are both determined, ambitious men who will stop at nothing to win.
Marvel.com: What can you tease us with as far as what's coming in the final showdown between T'Challa and Vlad? Will both men walk away?
David Liss: I know a lot of readers have been asking for a big fight, and we plan to deliver.  I'm not willing to say who walks away and or in what condition, but when they go into that battle, each man is determined to make it the end of the line.
Marvel.com: You also created a fairly vast supporting cast for both T'Challa and Vlad, and have, for lack of a better term, somewhat blown it all up, with revelations and casualties aplenty. What was the method for your approach here in introducing so many characters and altering them so abruptly? Also, how do you approach making a supporting player worth a reader's emotional investment in just a few issues so that those shake-ups will have a payoff?
David Liss: I wanted to establish a cast of supporting characters right away, but those characters aren't of much interest unless they are important or have something to do, or even something to lose.  Supporting characters in a title like DAREDEVIL are important in part because they've been around for years, and readers have had a long time to grow fond of them.  I didn't want simply to recycle Daredevil characters, and a new supporting cast seemed like the best way to go.  The great thing about new characters is that I'm free to bend, fold, spindle and mutilate.  I know some readers kept wondering "What's with this Iris woman?  Is this going somewhere?"  And, of course, it was.  Writing a pushy neighbor who is only a pushy neighbor can be fun, but I'm not sure that's enough.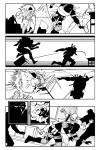 Black Panther: The Man Without Fear #519 black and white preview art by Jefte Palo
Marvel.com: Why have heroes like Luke Cage and Spider-Man been so wary of T'Challa's actions despite his standing among the Avengers and general super hero community?
David Liss: Partly because T'Challa has a reputation as something of a loose cannon, and the fact that the Panther refuses to allow anyone to help him or to share information only makes things worse.  When the arcs begins to unfold, innocent people are getting killed in Hell's Kitchen, and the street level heroes want to see the killer put away.  T'Challa is a proud man, and doesn't like people butting into his business. 
Marvel.com: Without getting too far ahead, can you sum up "Storm Hunter" with an overview?
David Liss: Our first arc was a dark, noirish story in the grand Daredevil tradition, so we wanted something that felt more like a popcorn film for our next arc.  It is an action-packed race to the finish that takes place over a very short period of time.  It also includes a fish man, which I always see as a selling point.
Marvel.com: How does Storm coming back into T'Challa's daily life shake up the world he has established for himself? Will she interact with his supporting cast?
David Liss: You will see some of the supporting cast in this story, and you will also how a happy couple like Storm and T'Challa solve their domestic disputes.  Again, T'Challa's pride is an issue here.
Marvel.com: In your mind, what makes Kraven such a good foil for T'Challa and vice versa?
David Liss: They are both supremely skilled hunters, both deadly fighters, and they are both driven by their respective concepts of honor.  It's a battle in which no one is going to blink.
Marvel.com: Can you say anything about what's ahead post-"Storm Hunter"?
David Liss: After "Storm Hunter" we have our Fear Itself tie-in.  I know there has been a lot of talk about the American Panther teaser art that Marvel released.  No one knows exactly what it means, but that hasn't stopped anyone from getting angry about it.  All I can say is that we've worked up an exciting, timely and controversial story featuring a cool old villain and a cool new one.
Marvel.com: Finally, how has it been working with Francesco Francavilla?
David Liss:
Francesco is an amazing artist, and his style has been so important in establishing the tone of this title.  He's easygoing, has a great sense of humor, a real collaborator and incredibly talented.