By Jim Beard
Once, they stood as the champions of a country not known for super heroes. Now, after long periods of strife and tragedy, they once again come together to face their fears and pick up the battle where they left off. They're Alpha Flight, and Canada needs them like never before.
Writers Greg Pak and Fred Van Lente drew the lucky straw to pen the newest chapter of a group that's inspired a dedicated following through the years. Original members Sasquatch, Snowbird, Northstar, Aurora, Guardian, Vindicator, Shaman and Marrina reunite this June in ALPHA FLIGHT, a new limited series that ties into the massive Fear Itself event. We caught up with the two scribes to get the lowdown on the book.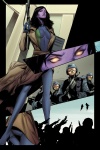 Alpha Flight #0.1 preview art by Ben Oliver
Marvel.com: What do you feel is the magic of the original Alpha Flight line-up that captured fans' imaginations and drove the demand for them to come back?
Fred Van Lente: They're probably the best and most diverse team of heroes created from whole cloth as opposed to being accumulated from other titles. You have figures of magic and mythology in Shaman and Snowbird, mutants in Aurora and Northstar, a Hulk type in Sasquatch and a Namor type in Marrina—and your patriotic Captain America combined with a brilliant Iron Man in Guardian.
Greg Pak: The gorgeous, clean lines of John Byrne's art and the dynamic costumes with the recurring starburst theme certainly had a great deal to do with the initial excitement around the characters as well. We're insanely lucky to have Dale Eaglesham pencilling the series and Ben Oliver pencilling the introductory Point One issue. Both of those artists have their own special styles that in their own way invoke those Byrne-esque clean lines and dynamic designs.
Marvel.com: What does it mean to the two of you to be given the reins to these popular characters?
Fred Van Lente: It means a lot to me. ALPHA FLIGHT was my favorite Marvel comic of the 1980's and the first one I got a subscription to. It's a real honor to be able to bring the characters back together again and send them on their most dangerous adventure ever.
Greg Pak: The more I work on the book the more confirmation I get about how very special this team is. We're lucky enough to be working with the original team, and the diversity of the characters' backgrounds, powers, phenotypes, and personal histories make for endlessly interesting interactions.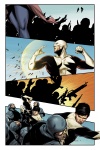 Alpha Flight #0.1 preview art by Ben Oliver
Marvel.com: Which team member are you most looking forward to writing about every day, and why?
Fred Van Lente: I think Guardian has potential to be a major star in the Marvel Universe, but I like writing Northstar the best. In many ways, he's the main character of this story, a kind of cranky leftist and reluctant super hero who loses almost everything and will get it back at any cost.
Greg Pak: Northstar has it all: Danger! Romance! Rebellion! Quips! Absolutely love the character and everything we're doing with him. I'm [also] having way too much fun with Sasquatch. I've been writing The Hulk for years, so I'm very familiar with gamma-powered scientists who transform into hugely powerful creatures. But Sasquatch's vibe is entirely different from the Hulk's, which is a great challenge and a ton of fun.
Marvel.com: Well, who among the characters represents the greatest challenge to you as writers?
Fred Van Lente: This story is very much about politics, a very human story, and so I'm still wrapping my head around how the goddess of the team, Snowbird, will react to it. What are gods but elemental expressions of power? No fan of human weakness, she may have more sympathy with the fascist government than the other Alphans.
Greg Pak: Under ordinary circumstances, Guardian, as the upright team leader, might be the toughest character to make interesting. But our particular hook turns Guardian's world—and his position in the world—upside down in a way that makes him infinitely interesting. It's a fantastic challenge and a total blast.
Marvel.com: Gotta ask, guys: What about Puck?
Fred Van Lente: Let's just say his time in Hell over in Jason Aaron's WOLVERINE has changed him a bit.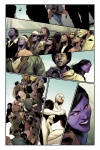 Alpha Flight #0.1 preview art by Ben Oliver
Marvel.com: Over the years, the entire team's been through many kinds of hell; how might that play into this new series?
Fred Van Lente: This is a brand new start for readers who know zilch about Alpha Flight that longtime fans will still enjoy—we like to call it an in-continuity reboot.
Greg Pak: The series absolutely respects past continuity and contains plenty of rewarding reveals for longtime fans, but it's also an entirely fresh start that requires absolutely no prior knowledge. Brand new readers, come on in! This is the crazy new book that you've been waiting for.
Marvel.com: What old rivalries among the Alphans might surface, or what new ones can we expect?
Fred Van Lente: Let's say there is a major betrayal within Alpha's own ranks; one of the heroes turns traitor to side with the fascists, and you'll never guess who he is.
Marvel.com: How will the series most reflect the Fear Itself storyline? Which team members will be most impacted by the spread of fear?
Fred Van Lente: They all will, in their own way; we're scared of different things. The rightwing Unity Party capitalizes on this terror to seize power, and turns the entire country against Alpha Flight. What's the greatest fear of a nation's very own hero team? To have that nation brand them traitors. That nightmare is coming to life for Alpha Flight.
Marvel.com: How does the story begin? What events kick it off?
Fred Van Lente: A hammer-wielding Worthy attacks a major Canadian city and Alpha Flight has to defend it, but little do they realize the greater threat may be from their own government—and within their own ranks.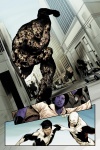 Alpha Flight #0.1 preview art by Ben Oliver
Marvel.com: The thrust of Fear Itself is of a mystical nature; how might the magic-based Shaman deal with that? Likewise, will Snowbird's goddess status make her uniquely in tune with the forces Sin has tapped into?
Fred Van Lente: You'll see quite a bit of that in the first issue, when they defend Vancouver from one of the most powerful of The Serpent's Worthy, who has his own army backing him up!
Greg Pak: And as the story progresses, we'll definitely explore the mystic connections of various Alpha Flight members and how that might relate to Fear Itself.
Marvel.com: And Sasquatch, once the only survivor of the team; how does he deal with fear?
Fred Van Lente:
Sasquatch's fear or Walter Langowski's? They may not be the same fear...