By Jim Beard
Artist Jorge Molina recently scored an exclusive contract with Marvel Comics, but he's already made his name and presence known to fans on such books as AVENGERS: THE INITIATIVE, CAPTAIN AMERICA: MAN OUT OF TIME and WORLD WAR HULKS: SPIDER-MAN & THOR. His current gig? Helping map the fallout from the Age of X in X-MEN: LEGACY #248.
So how did this busy artist get his start?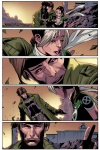 X-MEN: LEGACY #248 preview art by Jorge Molina
"I've always loved comics, since I was around 10," he says. "Back then I wanted to work on comics or anything related to drawing super heroes. As I got older I started to realize it was just a kid's dream and I should probably do something more 'reliable,' but then I had the chance to study animation and from there I ended up in comics, which is awesome! Imagine—at one point I consider being an ophthalmologist.
"[Since then] I've done a little bit of everything: videogame concept art, shirt designs, toy designs, animation. Out of all those, I think animation has been the most helpful [to me] as a comic artist. Animation is great, [because] it's all about movement and body language, so as an artist you have to keep a close eye on how to pose the characters or how to work expressions so they represent the dialogue in a believable way. I think that translates into my work, [because] in comics you just have one panel, one pose, to strike that feeling—knowing the way to express it is sometimes very challenging."
Growing up in Mexico, Molina says comics were scarce and it proved almost impossible to follow an entire story arc.
"I just got any title I could get my hands on, just for the art and not so much for the story," he notes. "I mainly collected trading cards, because they were very popular and easier to find. I had about 3,000 of them; all my allowance went into that. I was at the Marvel offices [recently] and they have collections of them hanging on the walls—I almost pissed my pants!
"I guess you can say Humberto Ramos and Joe Madureira were my main influences. In the 1990's, the dark and heavily-rendered style was very popular, mainly influenced by Jim Lee and Todd McFarlane, so when Ramos and Madureira came up with a more cartoon/anime style it was such a radical change. I copied anything those guys did, mainly Spider-Man and X-Men; I just felt they had such a fresh style and different from anything that was being produced back then."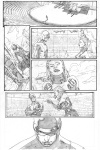 X-MEN: LEGACY #248 pencil art by Jorge Molina
After cutting his teeth at other companies, Molina began looking at Marvel as a place to further hone his skills, and for a chance to draw the characters he'd loved since childhood.
"I was interviewed at the San Diego Comic-Con by [former Marvel editor] Nicole Boose back in 2008, and after that I was contacted by Chris Allo; he gave me a couple of test pages to work on," the artist recalls. "Chris was awesome; he helped refine my style and guided me in the process. I didn't have much comics work experience so I was a bit nervous, but Chris really made me feel relaxed. The first title I got to work on was WHAT IF? SECRET WARS. I think as a fan that title was perfect, as I got to draw almost all the Marvel characters and I had the chance to do all the artwork myself: pencils, inks and colors. I really couldn't have asked for a better title to start off on. 
"What excites me the most are the variety of characters Marvel has; there is so much to play with and that helps keep things fresh [for me] as an artist. I'm still waiting to draw some Spider-Man—along with Gambit, he's my favorite character."
With a secret project looming on the horizon, the artist reports that his time with the Avengers still stands as the real proving ground for his work.
"AVENGERS: THE INITIATIVE was awesome," Molina says. "That was the first title I worked on for a monthly release, so it really pushed me to keep my work on a professional level and hit those deadly deadlines [that] most of us artists struggle with. I have to say I had a great team; [editors] Bill Rosemann and Rachel Pinnelas were amazing, and they gave me so much input on my work and helped me keep things moving. That title forced me to figure out a process on how to work and make sure I delivered a certain amount of pages a week. I owe that to the Avengers.
"I just finished X-MEN: LEGACY #248, which is looking awesome. I hope I can go back to LEGACY at some point, but now I'm about to start on a new project. I'm also working on couple of covers, which I love to do!"
Visit Jorge Molina's official web site and also follow him on Twitter @jorge_molinam