By Chris Arrant
Life's never been easy for the man called Logan, but in recent issues of WOLVERINE he's been to hell and back—literally. Now he's out to settle the score.
A shadowy organization called the Red Right Hand pulled the strings behind Wolverine's death and subsequent possession, but now Logan aims to gain revenge and it seems the only person with answers might be Mystique.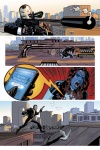 WOLVERINE #9 preview art by Daniel Acuna
"Wolverine knows that she played a part in the plot that had him sent to hell, and she's the only lead he has," explains series writer Jason Aaron. "WOLVERINE #9 is a standalone story that has Logan going after Mystique, and acts as a continuation of the earlier story arc 'Get Mystique' and the brief reprise in DARK X-MEN: BEGINNINGS #3."
But Wolverine's not the only one hunting down Mystique; she also has a murderous new villain named Lord Deathstrike to contend with.
"Lord Deathstrike appears pretty mysterious in this issue, but in [the] next issue we'll definitely see what he can do and just what he's capable of," says Aaron. "He's the world's greatest assassin, and once he puts his sights on Mystique she's in trouble. Having both Logan and the world's greatest assassin doesn't make for a happy time for Raven, and she knows it."
Wolverine and Mystique have a long and contemptuous relationship going back through the years, but Aaron's tenure working with both characters has brought it into a tighter focus. 
"They've been in a love/hate relationship going back years," notes the writer. "They've been allies and lovers, but most of the time they've been at each other's throats. Mystique carries a deep-seated hatred of Wolverine, and that's why she got involved in the plot to send him to hell in the first place. Once she kind of figured out what the whole plan was, she wasn't comfortable with it. We find out why in this upcoming issue.
"As you saw in the finale of 'Get Mystique,' when Logan finally had the chance to kill her he didn't do it. Obviously there's still some feelings and respect there between them, but by the end of this story those may go out the window."
Wolverine and Mystique's relationship comes to a head because of the machinations of the Red Right Hand. Although the group has stood in the shadows since their introduction, the upcoming 'Wolverine's Revenge' arc beginning in issue #10 promises to pull them out into the open.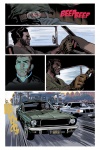 WOLVERINE #9 preview art by Daniel Acuna
"Beginning in #10, readers will finally find out the truth about these characters," promises Aaron. "It's all revealed as Wolverine comes in for his revenge, fighting his way through their soldiers. The story explains the personal stories of a handful of these characters and why they hate Wolverine so much. They've been out for revenge for years, and their plot has been in the works for a long time.
"This group has connections to different bits from Wolverine's past, and Marvel Universe past in generation. In 'Wolverine's Revenge,' we'll get to the bottom of the Red Right Hand but not with out a final surprise waiting for Logan."
Over the course of Jason Aaron's time writing Wolverine, the Alabama-born writer has pushed the long-time X-Man to the limit and beyond. But to create these new villains, he had to dig deep to find potent foils for the mutant.
"It's always hard to figure out villains who can pose a significant challenge to Wolverine; we needed to move beyond creating more guys with claws to slash at him," admits the writer. "As we've discovered, there [are] other ways villains can strike at Logan and hurt him. In 'Wolverine Goes To Hell,' it showed that profoundly. Now he's coming back for revenge, but he's not aware that the Red Right Hand's plans for him aren't finished. Sending Wolverine to hell wasn't the endgame for them, it was really just a set up for something else. The question becomes 'What is their ultimate plan for Wolverine?'"
Want to share your thoughts and opinions about Marvel.com? Sign up here to see if you qualify to participate in research on our site!