By Odin's beard! We're celebrating the May 6 release of "Thor" with a bevy of daily new content, from interviews with the cast and crew of the film to looks back at key stories from the comics and even more surprises! Visit Marvel.com every day for new Thor Month coverage, and mark your calendars for May 6 as the Odinson flies onto the bigscreen!
By Ben Chabala
Every week we'll pick a handful of awesome comics from the thousands available through Marvel Digital Comics Unlimited. From creator spotlights to editor's picks and more, this'll be your spot to find something new and cool.
In honor of "Thor Month," we're highlighting some of his most astounding exploits and enemies to prepare you for the flick. This time around we're shedding some revealing light on Loki Laufeyson's most irreverent antics!
Magically entombed within an ancient and gnarled tree and thusly incapable of weaving treacherous plots of traitorous deceit, Loki hungrily awaits his inevitable release.  Heimdall, the stoic sentinel of Asgard, unknowingly looses the cosmic prankster from his prison with a single tear, and soon after the other Odinson heads to Midgard to cause heaps of mayhem for his brother Thor. With revenge on Loki's mind—honed to a sharp and bitter edge over hundreds of years—and sinister magicks at his fingertips, will Thor survive this reunion?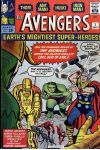 Did you know that Loki actually played an integral role in the formation of the Avengers?  It's true!  Without his irreverent illusions, malevolent manipulations, and dastardly deceits, Thor, Ant-Man, Wasp, the Incredible Hulk, and Iron Man might never have met and joined forces.  Now the group Loki helped assemble stands ever vigilant against his magical pranks, aiding the Asgardians in keeping him in line and inciting his undying enmity.  You're not going to want to miss this issue folks!
What woman might beguile Thor so that he worships her above all else?  With ancient spells and eldritch enchantments the infamous Lorelei now commands the heart of the Odinson!  But when the Thunderer calls for Loki to lead the Golden Realm in the All-Father's absence, far-sighted Heimdall sees and smells trouble.  Will Thor's friends and allies get to the bottom of the love-struck Thor's infatuation or will Asgard name Loki their newest lord?  Read on to find out!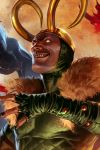 What mischief lurks in the mind of Loki Laufeyson?  If one were to glean some understanding of his manipulative genius, would they cry out in terror or stand awed at his subtle machinations?  To prepare for his next work of mayhem he meets with Bor's mythical Disir—those who eat the spirits of the Aesir—Mephisto, and dread Hela, promising each something in return for a boon.  The stage is set; witness Asgard's preeminent trickster do the unthinkable.  It's been parlor tricks up 'til this point—now Loki plays for keeps!  This issue masterfully penned by Kieron Gillen lead into Loki's adventures current in JOURNEY INTO MYSTERY!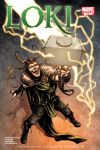 Alone and afraid, Loki awaits judgment at the hands of the Asgardians.  He killed Balder the Brave, the most beautiful and beloved of the Aesir and now he must pay.  But what brought him to this lowly moment?  How could a son of Odin fall so far?  Watch as Loki regales his half-brother, the mighty Thor, with a tale of their youth that gives us some insight into his troubled childhood.  Here Sif loses her hair to his deft hands and a blade, while he loses magnificent Mjolnir to Thor.  He thinks the hammer should have been his, but could he ever have been worthy?
For more Thor, visit the film's official site and our "Thor" movie page!
Buy your "Thor" tickets now on Fandango, Moviefone or MovieTickets.com!
Check out the list of Required Reading: Thor Collections, and find the best jumping-on points with Thor: Where to Start!
Directed by Kenneth Branagh, the epic adventure "Thor" spans the Marvel Universe from present day Earth to the realm of Asgard. At the center of the story is The Mighty Thor, a powerful but arrogant warrior whose reckless actions reignite an ancient war. Thor is cast down to Earth and forced to live among humans as punishment. Once here, Thor learns what it takes to be a true hero when the most dangerous villain of his world sends the darkest forces of Asgard to invade Earth.
"Thor" is from a screenplay by Ashley Edward Miller & Zack Stentz and Don Payne and a story by J. Michael Straczynski and Mark Protosevich. Marvel Studios' President Kevin Feige will produce the film. Alan Fine, Stan Lee, David Maisel and Marvel Studio's Co-President, Louis D'Esposito, will executive produce.
In addition to "Thor," Marvel Studios will release a slate of films based on the Marvel characters including "Captain America: The First Avenger" on July 22, 2011; "Marvel's The Avengers" on May 4, 2012; and "Iron Man 3" on May 3, 2013.