By Chris Arrant
There's only so long you can keep a secret, and this summer we're getting the real truth behind SECRET WARRIORS.
For the past two years, writer Jonathan Hickman along with artists Stefano Caselli and Alessandro Vitti have gone down into the rabbit hole to follow Nick Fury and his band of agents. They discovered a secret connection linking HYDRA back into Fury's old organization S.H.I.E.L.D. and a mass conspiracy from day one.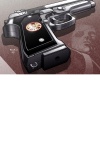 SECRET WARRIORS #27 cover by Paul Renaud
Launched as a series about a covert ops team led by Fury, SECRET WARRIORS turned out to be more than it appeared on the surface, expanding on the elaborate past of Marvel's intelligence and terrorist organizations. In last month's SECRET WARRIORS #26, Fury came face-to-face with his HYDRA counterpart Baron Von Strucker, learning new truths and giving away some of his own. In next month's issue #27, on sale May 25, this new information gets put to dangerous use.
"I think it's fair to say that one of our massive storylines we began in SECRET WARRIORS gets wrapped up in #27," reveals Hickman. "It's the issue before the last, so it's going to end with a big teaser of what the finale is. SECRET WARRIORS has been a pretty elaborate, labyrinthine journey and we're closing it out. I think we answer a bunch of questions people have in #27 and prepare for some big revelations in #28."
One of the biggest revelations coming out of the most recent issue: Fury knew about Strucker's behind-the-scenes control of S.H.I.E.L.D. all along and has been working his own agenda throughout. As Hickman says, that's not the only secret the super spy will share.
"There's definitely more secrets that will be revealed, like why Nick has been doing this," the writer promises. "And people will want to know what happened to Daisy and the kids, as well as what will happen to Dum Dum and Jasper sitting in jail. You've also got to think about what happens to Strucker and the rest of HYDRA."
Although Hickman can't give away the ultimate outcome of the series just yet, he can guarantee that the ages-old conflict between S.H.I.E.L.D. and HYDRA will get a major facelift.
"They're going to be in a new place; a better place than when I took this over," he says. "They'll be in a more interesting place. I'd like to say I've done a pretty good job of making HYDRA a more interesting organization than just cannon fodder."
Although Hickman maintains that Nick Fury spearheads SECRET WARRIORS, several characters play key roles in these final two issues.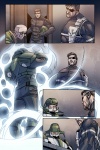 SECRET WARRIORS #27 preview art by Alessandro Vitti
"The stuff that happens with Daisy will be very important," he notes. "You'll also see what happens to Contessa related to Nick, and a couple more interesting things that occur with Strucker."
Hickman has a reputation for being a methodical planner, beginning with the ending of a story and then writing it backwards to issue one. But as we all know, life doesn't come without surprises and Hickman admits he encountered some swerves he wasn't expecting.
"I think the Howling Commandos story arc surprised me," he confesses. "I wasn't planning on it being that grey or as bleak, but it felt appropriate. I see that as one of the strongest part of the series in total."
Although Marvel announced SECRET WARRIORS as ending with May's #27, when it came time to write the final issues, Hickman found himself with more story than pages to fit, which led to a new #28.
"I turned in an almost 30-page script for issue #26, and then right at about 30 for #27," the writer recalls. "Editors Lauren Sankovitch and Rachel Pinnelas took a look at it with David Gabriel and decided to spread it out. Issue #25 was oversized, and we couldn't get away with doing that for two more issues. So we decided to let the final story-arc breathe and we extended it one more issue."
When asked if this final issue will also be the final appearance of Nick's Secret Warriors team, Hickman balked at revealing their fate; he does however maintain his stance on whether his time with these characters has come to a close:
"I think I've said my piece in regards to SECRET WARRIORS. Certainly there are pieces of this that will bleed into S.H.I.E.L.D. and FF, and I'll continue to cherry-pick other things to put into those books. But for the main characters that do survive the end of the series, I think I've said all I need to say."
Want to share your thoughts and opinions about Marvel.com? Sign up here to see if you qualify to participate in research on our site!