By Ben Morse with Burke Scurfield
Photos by Judy Stephens
As a wide receiver for the National Football League's Arizona Cardinals, Steve Breaston already belongs to one elite team, but if he had his way, he'd consider signing up for a different kind of squad on the side.
"I would [join] X-Force," the former Michigan Wolverine and four-year NFL veteran shares. "They're basically trained assassins, going to work, doing the tough missions. It would be cool to join the Future Foundation, but those white uniforms must get dirty so fast."

Steve Breaston enters the Marvel Universe
While Breaston might not have a full grasp of unstable molecules, he's certainly got impressive credentials not only on the field, but as a bonafide Marvel super fan who got hooked by "Maximum Carnage" back in the 90's and has been an avid reader ever since. In between practice, training, and becoming part of only five receiving trios—alongside fellow Cardinal Larry Fitzgerald and their former teammate Anquan Boldin—to notch up 1,000 yard apiece in a single season, Breaston finds time to hit the local comic shop and keep up on his favorite books.
Last week while in New York City, Breaston stopped by the Marvel offices where we sat down for a chat about his comic history and heroes as well as his thoughts of the NFL draft and ongoing lockout situation headed into the 2011-2012 season.
Marvel.com: How did you first become a comic book fan?
Steve Breaston: When I was in grade school, I'd take my lunch money and just buy whatever comics were in the store. I never told my mom. She was like, "Where did you get all these comics?" I finally told her and she laughed then gave me the money to get my own.
Marvel.com: Wait, how did you eat?
Steve Breaston: [Laughs] Y'know, I had friends. It's probably the reason I'm so skinny now.

Spider-Man
Marvel.com: What were your favorite comics growing up?
Steve Breaston: Spider-Man and X-Men. In the 90's [I got into] Carnage and Venom. As far as the X-Men, they had the Fleer Ultra cards and I did a lot of collecting those.
Marvel.com: Did you continue reading consistently through today?
Steve Breaston: I took a break. I think Civil War was when I really got back into reading comics again. Spider-Man giving up his secret identity and all the trouble he went through, Captain America's death, and that it was just a great story pulled me back in. Now every month I go in and pick up my favorites.
Marvel.com: Did you notice a difference taking off so many years and coming back?
Steve Breaston: It's all kind of similar [because] these characters are built to stand over time. Different people with different creative views take the stories different ways, and how they intertwine it keeps you at the edge of your seat. Nothing's better, it's just you have different minds and different projects that carry these characters through time.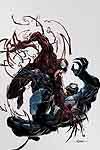 Carnage vs Venom
Marvel.com: You mentioned Carnage back in the 90's, but are there any other villains you like?
Steve Breaston: Doctor Doom. He's one of my favorite villains. I guess he's back in the picture now with the Future Foundation, even though he'll probably betray them. Magneto's always been a villain where you want to find out the limit to his power. It feels like there's no end. And then Venom.
Marvel.com: Being a Spider-Man fan, when you're on the football field, after you score a touchdown or something, do you ever want to strike a Spidey pose?
Steve Breaston: I want to do it sometimes, but I'd probably look like an idiot. Comic books and wrestling have influenced me a lot. I broke my thumb twice when I was growing up, jumping off the couch trying to be a wrestler or a super hero. My mom told me to sit my butt down, but when I got my cast on I felt even stronger and just hit people with the cast.
Marvel.com: Do you have any buddies on the team or in the League who you swap comics with?
Steve Breaston: It's more outside of work. It's funny because someone will say "I'm a big Spider-Man fan!" and then I'll say something about a specific issue and they'll [not know what I'm talking about] and I can tell they've probably seen the movies but don't read the comics. I remember it used to be "So you're a nerd," but no. Now as comics are being made into movies, these characters are standing out. Non-fans are seeing this stuff on the big screen and seeing how great it is and they want to go read comics.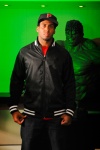 Steve Breaston meets The Hulk
Marvel.com: What did you think of how the Cardinals have made out in the NFL Draft so far? [NOTE: This interview took place shortly after the first round]
Steve Breaston: [Cornerback Patrick Peterson] was a good pick. We've got a new defensive coordinator and with the things were trying to do, he fits. He's a gifted athlete. He's probably one of the best athletes in the draft, so that's just going to make our team better from that standpoint. The biggest thing when you get there is learning the plays, but talent-wise, he's phenomenal, so we're just waiting to see what he's like when he gets on the field.
Marvel.com: Say all rules and testing are out the window—what Marvel character do you draft to join the Cardinals?
Steve Breaston: Wolverine. Especially now since injury-wise he would come back faster than most. He's aggressive, he always gets thing done, he always gets his man, and like I said, he's got the healing factor. Do I get a second round pick?
Marvel.com: Sure, though I don't know who would be left…
Steve Breaston: Spider-Man.
Marvel.com: No way Spidey makes it out of the first round!
Steve Breaston: Well if he does. He'd know his playbook better than Wolverine. I would have gone with The Hulk, but…
Marvel.com: Off sides every play?
Steve Breaston: Yeah, he's full of rage. He might not remember his plays either. He might be a lineman. You could teach him that. I actually don't think I'd draft Spider-Man, I think he'd be my offensive coordinator. If you can make web cartridges, you can make a playbook.

Doctor Doom
Marvel.com: Doctor Doom is a tactical genius, but could you trust him as a coach?
Steve Breaston: Defensive coordinator! He's push 'em, do dirty stuff underneath the pile after the play, so he'd have that edge. Doctor Doom as D, Spider-Man as O.
Marvel.com: What's your outlook for the Cardinals season this year?
Steve Breaston: I see us getting better. We can't take a step back like we did last year. Before that we were in the playoffs the best two years, had a Super Bowl appearance and then we took a step back. But as a team, even with this lockout situation, we've been working out together. Larry [Fitzgerald] had a group of guys working out with him, I've been working out with [strong safety] Adrian Wilson and I see him getting the defense together right now, learning the plays without the coaches. I think we're taking the right steps to get back where we were; we got left with a bitter taste in our mouths after last season. It didn't sit well with us as a team and I think that at the end of the season we knew we had to take time, get back to the basics and work harder. It's not easy. Sometimes you take getting there for granted, and when you don't get there, you don't want that feeling anymore. You want to get back to the playoffs and make another run at the Super Bowl.

Steve Breaston drafts Wolverine
Marvel.com: From where we're sitting today, do you think the lockout will end and the season will start on time?
Steve Breaston: Yeah. Yeah, I think so. I'm a big believer. People are coming out to watch your game, paying money to come see guys play; you understand that. People love this. Players, we love it too. The thing that's going on right now is business, but me, I played this growing up over the years when it wasn't a business. I love this sport. The NFL is the way it is now because people put in the time and work because they enjoy the game, they love the game. The NFL product is so sacred because people love the game and they put so much hard work into it.
Want to share your thoughts and opinions about Marvel.com? Sign up here to see if you qualify to participate in research on our site!