By Jim Beard
June becomes the deadliest month of the year when it welcomes the newest chapter in the saga of the strange and imposing Squadron Supreme. SUPREME POWER #1, out June 1, looks at a Squadron divided and a world sitting on the brink of destruction in a new four-issue MAX limited series from writer Kyle Higgins and artist Manuel Garcia.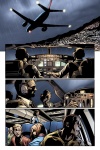 SUPREME POWER #1 preview art by Manuel Garcia
"The tone will be very similar to the first SUPREME POWER series," notes Higgins.  "It's first and foremost a character story, focusing on Mark Milton—Hyperion—and Joe Ledger—Doctor Spectrum—and the way the world has changed as a result of what Mark did in Washington, blowing up the White House and killing the President. The backdrop is once again super humans in the real world, but this time it's about the world more fully adapting."
As the writer mentions, the new SUPREME POWER turns the spotlight on the fascinating character of Doctor Spectrum, who's risen in popularity on his world due to the absence of Hyperion and his unique brand of governmental change. The two powerful beings create a duality that Higgins intends to explore to its fullest in this series.
"I've always seen Joe and Mark as two sides of the same coin," he says. "Where as Mark has been lied to and manipulated into serving the U.S., eventually coming to the realization that he doesn't have to serve anyone, Joe's every choice is predicated on 'is this what's best for my country?' Joe's sacrificed a lot in service to the U.S., but it's because he wants to.
"I have a line in the first issue, where Joe tells a reporter that 'a soldier is nothing without his country,' and to me, that's Joe in a sentence; he needs America and America needs him. And while that's the same relationship that Mark had with the U.S., the difference is that Joe accepts and embraces the relationship, where Mark rejected it. So playing with that concept, in addition to the fact that Joe has essentially 'taken over' for Mark in regards to his place/role/duties—well, I think you'll understand why it's been a lot of fun."
It's that enjoyment of the concepts and characters that draws Higgins to the project, and in turn allows him a writer's access to its varied themes and movements.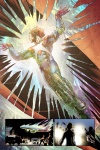 SUPREME POWER #1 preview art by Manuel Garcia
"While the point of a lot of new super hero books—and some old [ones]—is to try and 'deconstruct' the genre, playing off and commenting on the clichés of the past, I found SUPREME POWER doing something much more interesting," he explains. "It certainly had some of what I just mentioned, but that wasn't what it hung its hat on. To me, what made the book so strong was the coming-of-age story of Mark Milton, a 'god among men' who spent his entire life being lied to and manipulated, when all he wanted was to be accepted. It was modern and accessible and really had little to do with 'super heroes' at all. And that's what—to this day—I still love about the book."
The MAX imprint, intended for mature readers, also allows a certain leeway to endow SUPREME POWER with the energy to reveal its story without restraints.
"I know a lot of people think sex, violence and swearing when they think MAX, but to me that's not really the point—though we do have sex, violence and swearing in this," says Higgins. "To me, what MAX really allows is the freedom to push the boundaries of these characters. It's helped open my mind to different possibilities of where I can take Mark and Joe. It's allowed for character choices that, to me, round them out as much more interesting people."
In addition to introducing a new character that the writer hesitates to call a "bad guy" but hints that he perpetrates "some absolutely crazy, terrible things," Higgins also feels fortunate to be partnered with artist Manuel Garcia.
"I'll tell you what I don't like [about working with him]: he makes me feel lazy!" he jokes. "Manuel's storytelling skills are fantastic, he kills himself on every single page, and he's faster than anyone I've ever worked with. Oh! And as I just learned today, he also does killer ink washes. So really, at the end of the day, what else could you ask for?"
Want to share your thoughts and opinions about Marvel.com? Sign up here to see if you qualify to participate in research on our site!