By Ben Morse
For months, Anya Corazon has been soldiering on as Spider-Girl despite the loss of her powers. Perhaps part of her always hoped those abilities would return, but she could never have expected she would become merely one arachnid among many!
That's the situation facing Anya this summer in SPIDER-ISLAND: THE AMAZING SPIDER-GIRL, a three-issue limited series beginning in August from writer Paul Tobin and artist Pepe Larraz, as all of Manhattan begins crawling on walls and slinging webs with our heroine powered back up and in the midst of it.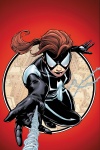 SPIDER-ISLAND: THE AMAZING SPIDER-GIRL #1 cover by Patrick Zircher
"Spider-Girl takes a dark little trip here," discloses Tobin. "She's desperately trying to hold Manhattan and New York together when all the chaos erupts. Her immediate goal is to take down the Society of the Wasp and their new leader, but there is a darker side involved because of who Spider-Girl is forced to team up with in order to save thousand's of New York's citizens. There are some 'devils' who offer Spider-Girl some pretty good opportunities, and even if Anya makes it out of this one alive, she's going to be very different considering some of the hands she shakes."
The Society of the Wasp—an ancient order connected to Spider-Girl's original powers and who have stalked her since her early days as Arana—has been dormant for some time, but will return in a major way a the worst possible time,
"They've been rebuilding, reforming, healing old wounds and staying out of sight," explains Tobin. "But when a society partially founded by a hatred for people with spider-related powers [sees] seemingly everyone in Manhattan gaining spider powers, they can't help but see it as a massing of their hated enemy, a call for crusade, a demand for holy war. They don't care why suddenly everyone has spider powers, they just believe their backs are to the wall, so they come out swinging with their biggest guns."
As for those 'devils' who will be reaching out their hands to our heroic young Anya, they belong to familiar figures in both the world of Spider-Man and the larger Marvel Universe.
"For reasons of his own, Kingpin needs Spider-Girl on his side," Tobin reveals. "He doesn't have time to bargain, so he comes in with his best offer. It's not really an offer Spider-Girl can't refuse in the classic Mafioso sense, [but] it's an offer so temping that she would be an idiot to refuse. Spider-Girl and Kingpin are going to need each other to survive this one, but of course there's the added hurdle of surviving each other—and the Hobgoblin [is] a deck of wild cards tossed all over the place, that's what makes him so scary."
While the return of her most implacable foes as well as the need to watch her back even from supposed allies will pose a substantial challenge for Anya even with her abilities, Tobin contends that the recent past has been the best possible preparation:
"I think her 'non-power' time has done a wealth of good for Anya. She's proven to herself she can go out there and compete with a good percentage of the bad guys even when she wasn't powered up. It made her look at her core values and decide if she was a super hero because she could [be] or if it was something she personally needed to do. Now she has brand new powers and can do a few new super tricks. Her options are open, which means she's even more fun than usual to write. I can really pile it on and see how she handles it!"
After all the changes she has already gone through in rapid succession of late, what kind of Spider-Girl will ultimately emerge from the upheaval of Spider-Island?
"Physically, there are the strange new powers and which of them stick around in the end," notes Tobin of fallout to watch for. "Then there [are] the new alliances she makes. Editors Steve Wacker and Tom Brennan are letting me shove around some fundamental building blocks, and I'd have to say Spider-Girl doesn't come out of this one as pure as she goes in. How she reacts to that is something that's been not only very challenging, but [also] very much fun to script."
Check back each morning this week on Marvel.com for another Spider-Island announcement, and for even more information and other goodies, visit our Spider-Island event page.
Want to share your thoughts and opinions about Marvel.com? Sign up here to see if you qualify to participate in research on our site!