By Tim Stevens
The client Ka-Zar, born Kevin Plunder, is an adult male who appears to be in excellent physical condition. Until very recently, the client was the ruler of the island nation known as the Savage Land. That, however, has been thrown into doubt by an ancient entity known as "The Designer" who has possessed the client's wife and laid claim to the throne itself.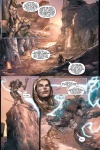 KA-ZAR #1 preview page by Pascal Alixe
This event is the precipitating in Ka-Zar seeking out therapy, but it is, in some ways, simply the culmination of feelings he has been experiencing for some time. While he spent the majority of his formative years in the Savage Land and made the choice to commit himself to life there as an adult, he has, of late, felt somewhat separate from his adopted home. The ruling council and the manifestation of The Designer have been both the catalyst for and the ongoing physical representation of these feelings.
Complicating manners further is that The Designer has chosen the client's wife, Shanna, to dwell in. In addition to, at least for now, "losing" his wife via this, the client has also had to repel attempts by the Designer-possessed Shanna to kill himself and his and Shanna's son Matthew. In a very real (and surreal) way, these events have led the client to struggle with grieving for both his loss of position and for his wife as if she was dead, although indications are that she remains alive, but dormant while The Designer is in control.
The client also comes with a history of early childhood trauma including his mother's death and his father's murder. However, all indications are that the client's "guardian," a sabretooth tiger named Zabu, was able to raise Ka-Zar in a loving manner that mitigated much of the disturbance and pain of those events.
The client is also estranged from his brother Parnival, also known as the super villain Plunderer. The two have clashed often in their adult years, typically about issues related to the Savage Land.
All of this having been said, the client seems disinterested in working on these issues at this time. Often this can be a sign of avoidance or denial, but in this case, it is the writer's assertion that the client does seem to be accurately describing his feelings on the matter. Difficult though the situations and relationships may be, he seems to have dealt and is dealing with them in a healthy manner.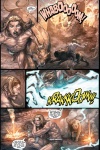 KA-ZAR #1 preview page by Pascal Alixe
For obvious reasons, this writer is not in a position to advise the client on how to expel an ancient from his wife's body or manners of ruling an island. Therefore, the focus of therapy is placed on dealing with the emotions these events have provoked and explaining to Matthew the nature of things in a way that is honest, but does not rob the child of feeling safe. To this end, we have reviewed several distress tolerance skills and engaged in role plays designed to help Ka-Zar "try out" approaches and begin to feel comfortable in discussing these issues with his son.
Ka-Zar's next appointment is scheduled for later this week on Wednesday, May 11 with Doctors Rob Williams and Brian Ching. Further information will be available on that day in the file marked SKAAR: KING OF THE SAVAGE LAND #3. The client will also receive additional treatment from Doctors Paul Jenkins and Pascal Alixe on June 8; that results of that session will be available in the file labeled KA-ZAR #1.
Psy D. Candidate Tim Stevens, MA is a Practicum Trainee at a Federal Correctional Institute and a Dialectical Behavior Therapy Consultant who has experience working with clients with a history of maladaptive family dynamics and recent grief.
Want to share your thoughts and opinions about Marvel.com? Sign up here to see if you qualify to participate in research on our site!