Manhattan transforms into Spider-Island on July 27 in AMAZING SPIDER-MAN #666, but you can get your own guided tour right here on Marvel.com with no less a guide than Senior Editor Stephen Wacker!
Not only will we be revealing exclusive art from Spider-Island throughout the day, but Steve will also be periodically answering questions about the big event from you! Want to know what's in store for Spidey, Spider-Girl, Venom and the rest of the heroes and villains involved? Here's your chance to find out!
"You good people out there in World Wide Webland get a chance to find out what's happening behind the scenes here at Spider-Sentral," says Wacker. "We've got a full day planned packed with news, art and plenty of celebrity gossip—if you want to call people who work in comics 'celebrities' and if you do, you gotta raise your standards!
And don't forget, it's not just Spidey we're talking about. I'll also be fielding questions on Venom, Spider-Girl, Cloak and Dagger and many other books that are being affected by a world where the new Spider-Man could be you!"
How do you get your questions to us? Glad you asked! Head over to Twitter and tweet us your queries @Marvel using the hashtag #SpiderIsland!
Keep looking in on the new Spider-Island art debuting in the gallery below and throughout, but heeeeeeeere's Steve with answers to your questions!
@nivlik3 (Kelvin Urena): will Spidercide make his return same with Hybird and Toxin
Steve Wacker: If you love those characters, you are a maniac. Seek help. But yes, there are plans. Not necessarily where you expect though. eVENtually they are cOMing.
@xXJAllenXx (Joshua Allen): will spidey regain his spider sense or will it remain gone?
Steve Wacker: Spider Sense is a cool power, but it was too much of a crutch. I think Dan made the interesting choice to get rid of it. The next writer can bring it back maybe.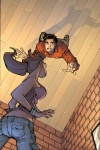 AMAZING SPIDER-MAN #667 preview art by Humberto Ramos
@GiantKJB (Kevin J. Bullen): Is there any crossover between Fear Itself and Spider-Island?

Steve Wacker:
Nothing directly though you'll see a bit of overlap given how much Fear Itself affects the Marvel Universe. Executive Editor Tom Brevoort (
@TomBrevoort
) is the authority on both projects, so he's careful to make sure everything fits.
@alex_mmorales (Alexandre Morales): any dramatic changes to spidey's life? New powers new villains born someone dies?
Steve Wacker:
Pretty much all of the above. This is a pretty big story for Spidey with repercussions for him and characters like Venom, Spider-Girl, Spider-Woman, Shang-Chi and Cloak & Dagger.
@knarf567 (Frankie Magallanes): I'm totally lost...Where should I pick up to catch up on this storyline including Flash becoming Venom?
Steve Wacker:
You could start with AMAZING SPIDER-MAN #654.1 to catch up with that story specifically. But you could also just pick up the collections AMAZING SPIDER-MAN: BIG TIME and AMAZING SPIDER-MAN: MATTERS OF LIFE AND DEATH to have everything since Slott took over writing the book.
Also Flash appears in the pages of VENOM every month.
@jo_an82 (Johann Gossmann): does the involvement of the Jackal mean we will be revisiting some aspects of the clone saga?
Steve Wacker:
Some. But not so much that it will be confusing to any lucky readers who weren't around for that Clone Saga epic (that I believe is still going on).

@ToCoWu (Tobias Wulffraat): Will there be any super heroes/villains getting spider-powers?

Steve Wacker:
 Oh, yes.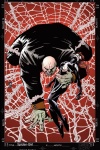 SPIDER-ISLAND: THE AMAZING SPIDER-GIRL #2 cover by Patrick Zircher
@Dave_DSG: How many chapters will there be? and will all of them be drawn by @humberto_ramos ?

Steve Wacker:
 Six chapters of the main story by Dan and Humberto. Plus a prologue and epilogue by Stefano Caselli.
Eight parts total…JUST LIKE THE NUMBER OF LEGS ON A SPIDER!!! I'M A GENIUS!!!

@nivlik3 (Kelvin Urena): will the great and noble Spider-Girl get her powers back?

Steve Wacker:
 Yes. SPIDER-ISLAND: THE AMAZING SPIDER-GIRL #1-3 has everything.
@Benjambo (Benjamin Clark): Besides ASM, Venom, Spider-Girl and C&D, what other books are affected?
Steve Wacker:
If you're reading this it means that I was allowed to announce that HERC and HEROES FOR HIRE are also involved.
@james_kilgannon: what kind of long lasting implications will spider-island bring to the spidey universe, and the rest of marvel?
Steve Wacker:
Obviously, I can't tell you that. But one thing to keep in mind...the best of these event books always seem to be the ones that tell an emotional, personal story at their core. Larger than life characters making dramatic choices against an epic backdrop. In the end, the way this story affects Peter Parker is what we're most concerned about.
@Agent_M: Can animals get spider powers? Could there be feral spider-cat colonies?
Steve Wacker:
Good question. I'll say this...there's no reason a dog can't get Venom powers. (That's a clue, son. Look, I say, look alive when I'm talkin' at ya!)
@boastfulbadger (raul rangel): how awesome is this series going to be on a scale of 1-100?
Steve Wacker:
That's up to you. I like it, but I'm a big Xanadu fan, so don't trust me.
Check back each morning this week on Marvel.com for another Spider-Island announcement, and for even more information and other goodies, visit our Spider-Island event page.

Want to share your thoughts and opinions about Marvel.com? Sign up here to see if you qualify to participate in research on our site!