By Chris Arrant
After years adrift in outer space, long-time X-Men Havok, Polaris and Marvel Girl want to come home, but someone won't let them return. In an upcoming X-MEN LEGACY story-arc starting with #254, writer Mike Carey tasks Rogue with a search and rescue mission that will take her from Earth to an extraterrestrial war.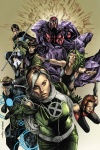 X-MEN LEGACY #254 cover by Mico Suayan
"I don't want to get too explicit, but it's really a pretty sudden and serendipitous thing," says Carey, "At the close of the 'Lost Legions' arc, an opportunity opens up—out of nowhere, really—for Rogue and her team to deal with a piece of outstanding business which has been hanging over the X-men since the Age of X reality bubble dissolved."
The missing mutants ventured into outer space back during Ed Brubaker's run on UNCANNY X-MEN to stop his mad brother Vulcan from decimating the Shi'ar Empire. After the murder of his father, Havok led a new team of Starjammers and took part in the war of Kings cosmic crossover. But this adventure kicks off with a psychic distress call from Marvel Girl to Rogue. Short on facts, the Southern belle hastily assembles a crew to head to the rescue. While Carey has kept the exact makeup of Rogue's team under wraps, he can share little more about their mission.
"They have a rough idea of where Rachel and the others are, and of one of the immediate problems that they're facing," reveals the writer. "There's a lot they don't know, and can't know until they go in. Part of the problem becomes that the person who briefed them, Rachel, had substantial holes in her memory, and could only tell them what she knew at that time. The facts were enough to make a rescue attempt seem like a very urgent priority, but not enough to allow them to work out exactly what would be needed for the attempt to work."
Rogue and her allies dive head-long into the darkness of space in an attempt to save their comrades with little information to go on, and Carey wants to leave readers in the dark as well for the time being.
"I'm going to have to be vague about some aspects of this," he admits.  "Part of the way the story works is to tip the X-Men into the middle of a chaotic, out of control situation and have them figure it out on the fly. But there's a sense in which this is part of the galaxy-wide fallout from War of Kings. The Shi'ar Empire has been beaten by the Kree and absorbed into the Kree Imperium. But within that framework, the Shi'ar continue to try to keep the worlds it controls politically unified. Meanwhile the subject races [that have] chafed under the Shi'ar yoke start trying to grab this opportunity to get free. This story includes one of the skirmishes in that huge, messy, open-ended conflict."
The fate of Havok, Polaris and Marvel Girl has long been a going concern, but as it turns out, Carey has been angling to bring them back into the fold for some time and finally got his chance.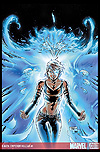 Marvel Girl
"We've wanted to do a 'cosmic' arc for ages, but the opportunity didn't come up," he explains. "Putting Rachel, Havok and Polaris into the mix was an idea we had when we were working on Age of X; everything seemed to dovetail in some really promising ways, so we went ahead and planted the seeds for this story."
This story-arc has been in the planning stages for a considerable amount of time according to Carey, and although the news of this rescue attempt might be new to readers, the writer has been leaving breadcrumbs all along:
"We've laid the groundwork carefully, but when it comes, it comes without any warning, pitching Rogue and her people into the middle of a situation that's already out of control. What they need is very straightforward: what they find really isn't."
Want to share your thoughts and opinions about Marvel.com? Sign up here to see if you qualify to participate in research on our site!