Few artists have a gift for creating cringe-inducing yet simultaneously enticing visual work quite like the masterful Simon Bisley, and it's a skill he'll be putting to good use when he contributes to FEAR ITSELF: FEARSOME FOUR this summer. We've got a tantalizingly terrifying sneak peek at Bisley's work on the first issue—on sale June 8—as well as the cover to #3, featuring the reunion of a peculiar past Fantastic Four line-up.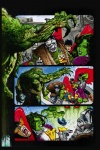 FEAR ITSELF: FEARSOME FOUR #1 preview art by Simon Bisley
"Having Simon as part of this book took it to another level of insanity," says Senior Editor Mark Paniccia. "Our characters have a very weird experience at the end of the issue. And who doesn't want to see She-Hulk, Howard the Duck, Nighthawk and Frankenstein through the mind of the Biz? It's…fearsome!"
Can't get enough FEAR ITSELF: FEARSOME FOUR? We hear you! Fortunately for those of you who reside in New York City, writer Brandon Montclare along with artists Michael Kaluta and Ryan Bodenheim will be appearing at the downtown Midtown Comics location from 6:00 to 7:30 PM on Wednesday, June 8 signing the first issue!
FEAR ITSELF: FEARSOME FOUR #1 (of 4)
Written by BRANDON MONTCLARE
Art by MICHAEL KALUTA, RYAN BODENHEIM & SIMON BISLEY
Cover by MICHAEL KALUTA
FEAR ITSELF TIE-IN
FOUR MARVEL HEROES SUCCUMB TO FEAR ITSELF!
Do you fear… your protectors turning on you? Man-Thing has gone mad as fear consumes the world, and Manhattan will burn. The only heroes that seek to stop him have given into fear themselves, and no one is safe! Ryan Bodenheim illustrates the dark side of the Marvel universe as a team of monstrously talented artists spotlight Fear Itself, each through the eyes of a fallen hero. Eisner Hall of Famer Michael Kaluta leads the charge, transforming Nighthawk into the most frightening vigilante you've ever seen!

32 PGS./Rated T+ …$2.99


Want to share your thoughts and opinions about Marvel.com? Sign up here to see if you qualify to participate in research on our site!