By Jim Beard
This June and July brings more Fear Itself tie-ins, kicking off two new story arcs in writer Jeff Parker's THUNDERBOLTS #159 and HULK #37. Both tales feature members of the Worthy— Marvel Universe characters subverted by the power of malevolent mystical hammers—going after the stars of each title and looking for blood.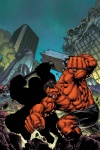 HULK #37 cover by Carlo Pagulayan
July's HULK #37 sees a member of the Worthy whose identity currently remains unrevealed, but Parker describes the reasoning behind this terrifying titan's beef against Red Hulk.
"Red Hulk gets in his way," he explains. "It's true, a hammer wielder has come to Manhattan, but there's no one with that kind of juice to stand up to him, so Red rises to the occasion."
The Red Hulk's become a true star in his own right in recent days, but can still susceptible to the uncanny fear that's sweeping across the Earth due to manipulations of Sin, the Red Skull's daughter, and her new master, The Serpent.
"He fears losing his humanity," says Parker of what keeps the Red Hulk up at night. "hat's what puts him in a tough fix; you remember he used to just pull power out of his opponents, which always gave him the edge until Bruce Banner told him that he'd eventually burn out his human side doing it. Now he understands that he values some things more than power and is in a supreme quandary: Does he use that built-in edge again, or does he do it the even harder way?
"[Red Hulk's] being hunted by new foes he doesn't understand, who aren't going to stop just because he's trying to save the world, by the way. He has a few people he trusts and one is still Steve Rogers, who sends him to New York just in case something major is about to happen there. That Rogers, he's got a hunch for these things."
Fear Itself also pervades June's THUNDERBOLTS #159, as one of the team's own picks up a hammer and brings a bit of terror to the Raft. Parker addresses Cain Marko's transformation into one of the Worthy:
"Juggernaut's personal story happening now in [current issues of] THUNDERBOLTS leads right into this, and you'll have to watch his actions closely to see if any part of Cain is still in control."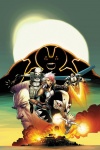 THUNDERBOLTS #159 cover by Kev Walker
The Thunderbolts, mostly a collection of criminals and cutthroats, will be forced to address their relationship with Marko as he amps up on hammer power and sets his eye on destruction.
"No one is overly interested in getting in front of Juggernaut anyway, and even less so now," notes Parker. "Songbird finds herself as the central authority, so she steps up in a big way.
"It's a sad fact of his life that every time Marko finally starts to fit in with people, it all goes wrong, though usually not as spectacularly and destructively as it does here. I apologize to everyone who was very comfortable with how things were going!"
Want to share your thoughts and opinions about Marvel.com? Sign up here to see if you qualify to participate in research on our site!