By Tim Stevens
This August, writer G. Willow Wilson and artist David Lopez welcome you to the utopian city of Hyperion in the newest offering from the Crossgen imprint: MYSTIC #1.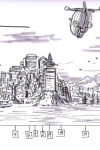 Hyperion sketch by David Lopez
"Hyperion is the fantastic capital city of Verne, a huge, crowded metropolis where the royals live in an enormous palace and the poor live in neglected slums," Wilson describes. "Everybody relies on aether-powered technology to get through the day. There are horseless trolleys, floating street lamps, even semi-sentient robots."
Conjuring up the city from thin air proved a challenge for Lopez, but one he anxiously undertook.
"It's been probably the hardest part of it," he says. "It's not just [figuring out] how [do] the windows look, I had to think about the history of a whole civilization based in a mix of technology and magic."
Drawing on elements of Egyptian, classical Greek, Napoleonic French, and pre-Soviet Russian architecture, Lopez strove to create a unique setting that wholly fit the book's plot and tone.
"I'm happy with the result," he declares. "Exhausted, but happy, [that Hyperion has] a look of its own; a port city, a multi ethnic capital city of the world."
As one might guess, more lurks below the beauty of Hyperion's sheen. The lead characters in MYSTIC don't fit the mold of princesses of classic fairy tale lore, but rather live desperately as poor orphans on the edge of society.
"The beginning of MYSTIC finds Giselle and Genevieve living at Limpet Hall, a grim orphanage for girls in the slums of Hyperion," Wilson explains. "Genevieve is a dreamer, convinced she can make a better life for herself; Giselle is a realist and more apt to solve problems with sharp retorts, and failing that, with her fists."
Genevieve sees her ticket out in the form of a highly prized apprenticeship, a goal typically out of reach for people of her and her sister's status.

Giselle & Genevieve sketch by David Lopez
"Genevieve's dream is to study the Noble Arts, a science that teaches people how to manipulate aether, the mystical substance that fuels Verne's technology," the writer says. "Giselle tells her this is a fantasy—a poor orphan girl could never be chosen as a royal apprentice. But the girls get a chance to attend the apprentice selection ceremony at the palace, and what happens there sets both their destinies in motion. What happens at the palace forces them both to reconsider how they look at the world, and takes them in directions neither one expects."
For Wilson, differentiating the aether and what it means to Hyperion society from "typical" magic represented an important challenge of the project.
"Rather than straight-up wand-waving sorcery, the Noble Arts are considered a kind of alchemy—a magic based on science," she asserts. "I just thought the high magic thing had sort of been overdone in recent years, and I wanted something fresh. Hundreds of years ago, the line between science and magic was much more unclear, since people understood much less about the universe. I thought it would be cool to take that idea and run with it. But I can't take credit for the whole thing; David had some amazing ideas about ways to expand the concept."
"The whole thing has been a really wild ride, lots of work but the book looks marvelous," Lopez promises. "I'm really proud of what we've achieved. This is going to be an amazing, original, unique book."
Want to share your thoughts and opinions about Marvel.com? Sign up here to see if you qualify to participate in research on our site!