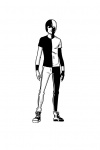 The In-Betweener sketch by Nick Dragotta
By Ben Morse
Beginning in July, Joe Casey and Nick Dragotta launch a six-issue ambitious odyssey across time, space and the Marvel Universe, drawing in characters familiar and obscure to explore the complex nature of good, evil, and what lies beyond in VENGEANCE.
Over a 12-day period, Marvel.com will unspool a mere sampling of this story's sprawling cast and their histories, with Casey offering insight that provides both answers and more questions while Dragotta previews the visual genesis of VENGEANCE.
Get out your compass and then throw it away, as A Dozen Days of Vengeance will take you way off the map and on the path to the craziest adventure you've ever had!
A cosmic cipher, The In-Betweener made his first appearance in 1975's WARLOCK #10. His origins as mysterious as the nature of the universe, he embodies duality and has striven to create balance between opposing forces such as good and evil. He has served as the go-between for Lord Chaos and Master Order, but often acted of his own accord in opposition to the wishes of either for purposes only he fully knows.

The In-Betweener by Nick Dragotta
Following several epic clashes with Galactus, The In-Betweener made his last known appearance as a pawn of the mysterious Scorpio before the Avengers managed to set him free and avert possible universal catastrophe—he has not been seen since.
"Judging from [Nick] Dragotta's character sketch, I think it's easy to see that we're putting the 'tween' back [in] In-Betweener," teases Casey. "Anyone who read his last appearance in AVENGERS will recognize threads directly picked up from that story."
Continue to follow A Dozen Days of Vengeance here on Marvel.com and get psyched for VENGEANCE #1, coming your way July 6!