By Tim Stevens
Joanna Cargill presents as an adult female of above average physical fitness. She self-identifies as a mutant and has operated under the identity of Frenzy. For most of her adult life, she has done this as a member of various groups identified as mutant terrorist teams including the Acolytes and the Alliance of Evil. Currently, however, she has been extended an invitation to the mutant rights group known as the X-Men and offered a place in Utopia, the current mutant island homeland.

Given Cargill's history of believing in a doctrine of mutant superiority, this writer began session by inquiring whether the client felt as though she could work with a non-mutant therapist. Initially she was evasive regarding the question, but eventually admitted that normally she would prefer not to work with a non-mutant. However, she confessed that the cause of her difficulties comes from within the mutant community and as it is a close knit group of people these days she did not feel comfortable seeking therapy there.
Sensing a certain momentum to session, this writer held off on gathering a more full history, instead focusing on the client's thoughts and feelings in the moment. She went on to explain a recent event involving an alternate timeline. Although this is kind of testimony is highly unusual in the general population, this writer has heard of several such instances from other clients also in the super-powered community. Therefore, there is no reason at this time to discount her story or consider it a delusional event.

This timeline, very different from our own, led to the client joining with and marrying it's version of Scott Summers, known here as Cyclops and there as Basilisk. When the timeline was undone, Cargill sought out Summers with the intention of maintaining their romantic connection. Although he accepted her enough to offer her a place with the X-Men, he did not mirror her desire to continue their relationship. Moreover, he, like the majority of mutants who experienced the timeline, has had his memories of it erased, further breaking their connection. She, on the other hand, chose not to erase her experiences.
Thus, she continues to struggle with the feelings those events provoked and found herself without anyone whom she could comfortably discuss them with. Her inability to deal with the emotions is best exemplified by her continuing to dress as she did in the alternate timeline, indicating unwillingness, at least on a subconscious level, to discard the "unreality" of that world.
She confesses to ambivalence regarding joining the X-Men as well. In a previous encounter, the members of the team used telepathy to force her to do things that opposed her principles, something she has not forgotten. Additionally, despite once being a disciple of Magneto, he nearly killed her a short time ago. Therefore, his recent endorsement of the X-Men after years of opposing them actually makes her less comfortable with the group, not more so. Finally, the X-Men doctrine of peaceful co-existence is not a philosophy that Cargill endorses and so she is struggling to reconcile that with her beliefs in mutant superiority.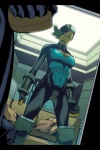 Despite openness in sharing this information, the client presents as very unwilling to discuss emotions beyond anger. Therefore, this writer has been unable to make much headway in getting her to explore the full range of emotions recent events have evoked. Thus, the emphasis of therapy must be on promoting the therapeutic connection in the short-term. This is especially the case given her anti-human beliefs. This writer, however, does believe a strong, supportive relationship is a possibility given that the client sought out the therapy in the first place. Additionally, she is able to hear the writer's observations in this area without becoming defensive or sarcastic.
When the relationship has been formed, Cargill should become more comfortable tapping into her "less acceptable" feelings. At this time, we can begin to process the concerns that initially led the client to contact this writer.
Joanna Cargill's next sessions are set for May 25 and June 8 with Doctors Mike Carey, Rafa Sandoval, Khoi Pham and Steve Kurth. Information on these sessions will be available in files X-MEN LEGACY #249 and #250.
Psy D. Candidate Tim Stevens, MA is a Practicum Trainee at a Federal Correctional Institute and a Dialectical Behavior Therapy Consultant who has experience working with individuals with difficulty trusting others and processing emotions in a healthy and helpful manner.
Want to share your thoughts and opinions about Marvel.com? Sign up here to see if you qualify to participate in research on our site!