By Chris Arrant
What do you do after you jettison the Hulk into open space and exile him on a dangerous alien world? Writer Greg Pak, for one, wanted to stick around and see what came next.
After formative first steps into comics in 2004 and 2005, the Yale graduate found his footing—and his future—with INCREDIBLE HULK #92 in 2006. Pak launched a brave, bold new direction for The Hulk, sending the Green Goliath to the alien world of Sakaar for an epic arc titled "Planet Hulk." After turning from slave to survivor and then to savior, Hulk directed his anger back at Earth's heroes in World War Hulk, an event also orchestrated by Pak. The writer has continued to pen the adventures of Bruce Banner's alter ego going on five years now, but that all comes to an end this summer.
Pak's final story, "Heart of the Monster," kicks off next month in INCREDIBLE HULKS #630 on June 8, where the writer gets to the roots of the Jade Giant and gives him what he's always wanted. But if every cloud has a silver lining, The Hulk finds out that also works in reverse.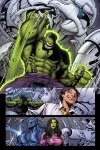 INCREDIBLE HULKS #630 preview art by Paul Pelletier
Marvel.com: When can you say about "Heart of the Monster"?
Greg Pak: It sounds crazy coming from the guy who wrote "Planet Hulk" and World War Hulk, but this is the biggest Hulk story I've ever written; it's the emotional climax of the five years of Hulk stories I've been writing. In "Heart of the Monster," The Hulk and everybody will get what they've always wanted—whether or not that's a good thing remains to be seen.
Marvel.com: From the sounds of it, The Hulk's not the only one this story is about.
Greg Pak:  You're right. While The Hulk is front-and-center, the Red She-Hulk—Hulk's estranged wife Betty Ross—plays a big part [as well]. This story arc will show that actions and decisions have effects. Amadeus Cho is back, as well as Rick Jones; Hulk's biggest fan and Hulk's best friend. We also have Jen Walters, aka She-Hulk.
Another really exciting thing here is on the villains' side you've got new ones as well as classic ones that have been waiting decades for payback. We're going to see some massive action with these classic villains and among them is Armageddon, warlord of the Troyjan Empire, one of [longtime Hulk writer] Peter David's greatest creations. You've also got classic foes like the Bi-Beast and Wendigo; and how can you get bigger than Fin Fang Foom? We've got a titanic series of stories featuring the most monstrous opponents [around].
Marvel.com: Like you said, these are some classic match-ups you're bringing out for your finale. What's it like to draw from all over Hulk's history?
Greg Pak: It's a blast. I was incredibly lucky with The Hulk from day one when I came onto this book; the story I wanted to tell was the same kind fans wanted to read: The Hulk set loose on an alien planet. We created new heroes and new villains, and delved into the mythology and pantheons that great writers before me created. It's a huge amount of fun playing in this world.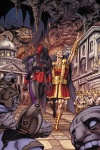 INCREDIBLE HULKS #630 preview art by Paul Pelletier
Marvel.com: After all these years on the title, have you surprised yourself with any choices you made or paths you took?
Greg Pak: I don't know if surprise is the right word, but there [have] definitely been a couple times where I laughed when I realized how many stories I've been able to tell. I'm grateful to everybody at Marvel to get such a long run on the book. Few people get the chance to tell an epic storyline.
The biggest pleasure I've had is that some of the ideas that were laid out in the very first pitch for "Planet Hulk" are finally paying off now in this final arc. It's fairly rare to be able to finish out a run on a book in a way that feels like it completes a larger story, but I've been able to do that here.
Marvel.com: Although the story arc begins next month, that final issue doesn't come out until August. Where are you at in terms of writing that final script—and what's that like for you?
Greg Pak: I've turned everything in but the last two scripts; who knows, I might go back and change everything! [Laughs]
Seriously though, it's a pretty heady experience. The final pages of the last scripts have been in my head for a long time, and it'll be an experience to put them down on paper. I'm a little bit wistful about the whole thing, but also looking forward to it.
Marvel.com: Speaking of those early days of "Planet Hulk," back then where did you think the future would take you on the book?
Greg Pak: Oh, I had no idea. I knew I was onboard to write the "Planet Hulk" story arc; INCREDIBLE HULK was the first ongoing book I ever got a chance to write, and everybody knows that in comics people tend to move around a lot so I didn't know how long my stay would be. I knew World War Hulk was coming, but beyond that I had no idea.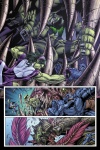 INCREDIBLE HULKS #631 preview art by Paul Pelletier
At around the midpoint of "Planet Hulk," I began to pitch for the next big steps, and Joe Quesada [then Marvel's Editor-In-Chief] was very excited for the ideas, especially Skaar, Son of Hulk. When the ball started to roll on those ideas it really began to pick up. But at each stage I've done my best to tell the best story I could and keep an eye on the future.
Marvel.com: Do you feel like you're known as "the Hulk guy" at this point?
Greg Pak: It depends on the fans. Certainly I love the Hulk fans and have had a huge amount of fun talking to them. I did a signing last week in Atlanta where I ended up drawing The Hulk for kids.
At the same time, there are certainly fans who know me for Hercules and Amadeus Cho. Other fans know me as the MAGNETO: TESTAMENT writer. I'm very proud to be known as the Hulk guy, but I have other stories kicking around. I'm very happy, for example, about ALPHA FLIGHT which I'm writing with Fred Van Lente; the book has had a pretty good reception these past few weeks, and I definitely have other things cooking.
Marvel.com: What went into your decision to leave the Hulk behind after five years at the helm?
Greg Pak: All things must pass. I love he Hulk, and I'm very happy to write The Hulk; I could certainly write some more if it came to that. But every writer comes to a point where it's best to walk away form the character. For me, the ongoing storyline reached a certain pinnacle; the emotional thru-line I started way back in "Planet Hulk" was coming to a head and this just seemed like the right place to finish. True story endings are a rare thing in comics, but they are a great thing for storytellers if they get the chance.
Marvel.com: Last question: What's it going to be like when you're no longer writing The Hulk and are back as a Hulk fan like all of us?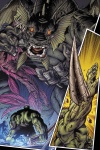 INCREDIBLE HULKS #631 preview art by Paul Pelletier
Greg Pak: Well, I'll endure! [Laughs]
I love the character, so I'm not crying. With all of these characters, you have to love them as much as you can and take all of their actions personally. At the same time, you have to be able to walk away. It's all a part of telling stories. I'm doing right by these characters, and they've done right by me.
Want to share your thoughts and opinions about Marvel.com? Sign up here to see if you qualify to participate in research on our site!