Miss America by Nick Dragotta
By Ben Morse
Beginning in July, Joe Casey and Nick Dragotta launch a six-issue ambitious odyssey across time, space and the Marvel Universe, drawing in characters familiar and obscure to explore the complex nature of good, evil, and what lies beyond in VENGEANCE.
Over a 12-day period, Marvel.com will unspool a mere sampling of this story's sprawling cast and their histories, with Casey offering insight that provides both answers and more questions while Dragotta previews the visual genesis of VENGEANCE.
Get out your compass and then throw it away, as A Dozen Days of Vengeance will take you way off the map and on the path to the craziest adventure you've ever had!
Madeline Joyce, Marvel's original Miss America of the Golden Age, first appeared in 1943's MARVEL MYSTERY COMICS #49, then met a new modern audience 31 years later in GIANT-SIZE AVENGERS #1. Gaining super strength and the ability to fly after being struck by lightning, Frank went from heiress to heroine at the height of World War II, serving on both the Liberty Legion and All-Winners Squad. She retired from heroics after marrying teammate The Whizzer, but later died tragically due to radiation exposure during childbirth.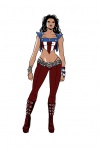 Miss America sketch by Nick Dragotta
When the Liberteens—a new incarnation of the Liberty Legion—formed in AVENGERS: THE INITIATIVE ANNUAL #1, the group counted a young Miss America among their ranks, though she has rarely appeared since.
"A new icon for the 21st Century," touts Casey. "A new vision of American female empowerment. She took the name of a Golden Age heroine and reclaimed it in the name of ego and indestructibility. One day, she might be the greatest hero of her age."
Continue to follow A Dozen Days of Vengeance here on Marvel.com and get psyched for VENGEANCE #1, coming your way July 6!