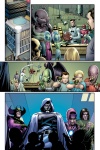 FF #5 preview art by Barry Kitson
By Jim Beard
After months of hardships and the ultimate sacrifice of one of their own, the Future Foundation—formerly the Fantastic Four—faces an unavoidable conflict: The War of the Four Cites. Writer Jonathan Hickman explains the Foundation's state as the first signs of war hit home in this month's FF #4—on sale now—and issue #5, coming June 29.
"The family is fractured and on the ragged edge," he says. "The children, well, they might be our only hope."
Those children, all part of the Future Foundation, rank as some of the most unique and intelligent in the Marvel Universe. They, along with Reed and Sue Richards, Ben Grimm and Spider-Man, witness "The Beating of Drums" in FF #4, the first chapter in this multi-part storyline.
Over the past several months, Hickman has laid out the foundation of the War, detailing each city and its stake in the onrushing battle.
"The Tribes of Old Atlantis want to rejoin the world," he notes. "The Universal Inhumans believe they should reclaim the Earth. The citizens of the Forever City believe they will remake the world. And the forces of Annihilus believe they will destroy the Earth."
Creating even more chaos for the Future Foundation, a time and universe-spanning collection of alternate-reality version of Reed Richards strive to insure the War's beginning to bring about a self-serving plan of their own. Unfortunately, their actions will also make this conflict one that no one will soon forget.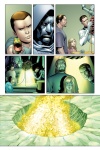 FF #5 preview art by Barry Kitson
"[The War operates] in the traditional sense and, in addition to that, it will also escalate in scale in such a way that the average citizen of the Marvel Universe would be sucked into it," says Hickman. "We've needed to introduce all the relevant parties. We'll meet the last ones in issues #4 and #5, and then from there it's a party."
Spider-Man, invited by Reed and Sue to be Johnny Storm's replacement on the team, and Doctor Doom, brought in by the Richards' daughter Valeria as a would-be consultant, stand as individuals in the War, yet also as important components in its ultimate solution.
"Spider-Man and Doom are in the same position: new players—wildcards, if you will—on the stage," explains Hickman. "I'd guess their take [on the War] would be the same as Johnny's would have been: they want to win. We'll see if that happens."
Want to share your thoughts and opinions about Marvel.com? Sign up here to see if you qualify to participate in research on our site!