By TJ Dietsch
"And there came a day, a day unlike any other, when Earth's mightiest heroes and heroines found themselves united against a common threat. On that day, the Avengers were born—to fight the foes no single super hero could withstand!"
As the Heroic Age dawns on the Marvel Universe and we prepare for a new chapter in the ongoing saga of Earth's Mightiest Heroes, each Friday Marvel.com will present a different column focusing on the one and only Avengers. From line-ups to costumes to villains to classic stories and beyond, we've got you covered on the history of Marvel's most prolific team of heroes!
So let the call go out: Avengers Assemble!

The Black Panther
The writer of War Machine's adventures in IRON MAN 2.0 as well as current coordinator of SECRET AVENGERS through Fear Itself, Nick Spencer has earned a reputation as a guy who can handle a mix of iconic and lesser-known characters. It should come as no surprise, then, that the writer's favorite Avengers include a mix of classics with a few surprises. From kings and robots to two different men in armor, Spencer's picks would make a formidable line-up against any foe.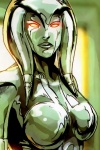 Jocasta
5. Black Panther.
"Great costume, great name, great origin. All the Wakanda stuff always fascinates me, too."

Hawkeye
4. Jocasta.
"AVENGERS ANNUAL #17." [Editor's Note: During this Evolutionary War tie-in, Jocasta sent out a distress signal answered by reservists the Captain, Hercules, The Hulk, the female Yellowjacket and The Falcon. They battled the High Evolutionary and Jocasta sacrificed herself to destroy his headquarters, giving her teammates enough time to escape.]

Iron Man
3. Hawkeye.
"Bad ass, smart ass—I like Clint."

The Black Knight
2. Iron Man.
"Just the most wonderfully complex character in comics over the last five years. No one is more fun to write than Tony."
1. The Black Knight.
"Yeah, I have no idea why, really, but that's my guy, always has been. We all gotta have one, right?"
Want to share your thoughts and opinions about Marvel.com? Sign up here to see if you qualify to participate in research on our site!