Marvel proudly recognizes our own Sara Pichelli winning the 2011 Eagle Award winner for Favorite Newcomer Artist!
Sara did her first work for Marvel in 2008 on the NYX: NO WAY HOME limited series then followed up in 2009 with a brief but celebrated stint on RUNAWAYS. In 2010, she reunited with RUNAWAYS collaborator Kathryn Immonen on X-MEN: PIXIE STRIKES BACK before jumping onboard ULTIMATE COMICS SPIDER-MAN for several issues.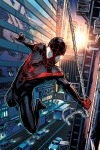 ULTIMATE COMICS SPIDER-MAN #1 cover by Sara Pichelli
Upcoming, Sara will contribute to ULTIMATE FALLOUT before re-launching ULTIMATE COMICS SPIDER-MAN alongside writer Brian Michael Bendis.
"I'm thrilled for Sara, [this is] complete deserved," says Bendis. "On the same day she won this award she sent in the first batch of completed pages from the new ULTIMATE COMICS SPIDER-MAN. Based on these pages I can almost guarantee her that this will not be the last award she gets."
"Every time I see new pages from Sara she continues to grow as an artist," echoes Senior Editor Mark Paniccia. "She's amazing now and I can't imagine where she'll be a year from now—except making ULTIMATE COMICS SPIDER-MAN look great."
Congratulations to Sara from all of us here at Marvel!
Visit Sara's blog to see more of her work