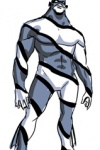 Mako sketch by Nick Dragotta
By Ben Morse
Beginning in July, Joe Casey and Nick Dragotta launch a six-issue ambitious odyssey across time, space and the Marvel Universe, drawing in characters familiar and obscure to explore the complex nature of good, evil, and what lies beyond in VENGEANCE.
Over a 12-day period, Marvel.com will unspool a mere sampling of this story's sprawling cast and their histories, with Casey offering insight that provides both answers and more questions while Dragotta previews the visual genesis of VENGEANCE.
Get out your compass and then throw it away, as A Dozen Days of Vengeance will take you way off the map and on the path to the craziest adventure you've ever had!
"The first Atlantean test tube baby, grown from the cells of various water-breathing villains that have been in and out of custody over the years," offers Casey on the origin of Mako, a character making his debut in VENGEANCE. "What do you get when you mix the DNA of Attuma, Orka, Meranno and Tyrak? You're about to find out."
While Mako may be a newcomer, he certainly possesses an infamous pedigree.

Mako by Nick Dragotta
Attuma, a barbaric warlord from an off-shoot branch of Atlantis began seeking Namor's crown back in 1964's FANTASTIC FOUR #33 and has only just become one of the Worthy, serving The Serpent throughout Fear Itself. 1970 marked the debut of Orka, an Atlantean soldier mutated with killer whale abilities, in SUB-MARINER #23—he met his demise in 2007 while on the side of angels in HEROES FOR HIRE #8. Meranno, aka U-Man, an Atlantean who allied with the Nazis following banishment by Namor, appeared for the first time in 1975's INVADERS #3. Tyrak, a lieutenant of Attuma, stormed the pages of AVENGERS #154 in 1976.
Continue to follow A Dozen Days of Vengeance here on Marvel.com and get psyched for VENGEANCE #1, coming your way July 6!