By Ben Morse
The New Avengers host their equivalent of an open house this September, as the legendary Neal Adams provides art for a special Point One issue also featuring the return of Norman Osborn, and a familiar Man Without Fear joins the ranks of Earth's Mightiest Heroes for the first time. 
NEW AVENGERS writer Brian Michael Bendis—along with artist Mike Deodato—welcomes Daredevil to the team in issue #16. For Bendis, who made his mark on Marvel penning the DAREDEVIL series from 2001 to 2006, the event marks a welcome reunion.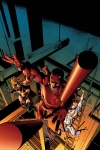 NEW AVENGERS #16 cover by Mike Deodato
"It feels sort of wonderful," he says of Matt Murdock's horn-headed alter ego becoming a part of the cast. "I do miss writing him a great deal. But the character has been through so much since my years with him that even though I am writing Matt it feels like I'm writing a new character because of where he is in his life and his mindset." 
Indeed the Guardian Devil of Hell's Kitchen experienced a pronounced fall from grace last year during the events of Shadowland, when he fell victim to a Hand plot that installed a demon in his person and led him to impose martial law on Manhattan. Daredevil killed his archenemy Bullseye and violently battled many of his friends, several of whom serve on the New Avengers, before regaining his freedom.
"Daredevil is on a powerfully redemptive arc," notes Bendis. "If he is to truly [regain] the trust and admiration of his colleagues and the city, one would imagine that the Avengers is where he'll find it. 
"A lot of people [in] the NEW AVENGERS cast have a very long and sometimes sordid history with Matt Murdock. He was asked to be part of the New Avengers when they were first coming together. One has to wonder how different Matt's life would have turned out if he would have accepted Captain America's invitation. Now that New York is being ripped apart by The Red Skull [as part of Fear Itself], Daredevil teams up with the Avengers and gets a taste that will inform a decision as big as any he has ever made."
Also in September, NEW AVENGERS #16.1 features Neal Adams revisiting the stomping grounds he famously first tread upon in 1971 when he illustrated the incomparable Kree-Skrull War.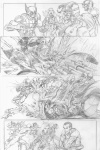 NEW AVENGERS #16.1 preview pencils by Neal Adams
"When [Marvel Executive Editor and Senior Vice President of Publishing] Tom [Brevoort] offered me the opportunity to do a Point One issue of NEW AVENGERS, I said that I wanted to get somebody very special to draw it," recalls Bendis. "Tom very wisely brought up [Neal] as a candidate. We thought it was a long shot, but to both our surprises, he said yes.
"Neal is a true legend. Comics would not be the same without his existence. This is one of the greatest honors I have had in my career. [He and I have] talked a couple of times about [collaborating], but the project or the time wasn't right. I certainly wanted to make sure that if I ever did get to work with Neal that it was my best foot forward." 
With that self-imposed weight on his shoulders, Bendis set out to create a script he felt would both showcase and challenge his acclaimed creative partner.
"I always try to write for the artist," he says. "I own everything that Neal has ever drawn including his most recent work. I studied it very closely to see where he was at in his page layouts and panel designs and started to think of how to best present the story to him. I also called him and asked if there was anything I could give him to draw that would make him happy. He said he would be very happy to draw something that I was passionate about writing. 
"With an artist of this caliber you could do one of two things: You could fill the script with images that you know will be amazing because he's known for those types of images, or you could offer both him and the fans panel after panel of things we have never seen him draw before. I thought, 'You know what? I don't think I've ever seen him draw Spider-Man. I don't think I've ever seen him draw Wolverine except for a little thing here or there. I don't think he's ever drawn Luke Cage or Ms. Marvel or even Norman Osborn.' I said I could really load up this script with things we have never seen from him. As the pages started to come in I realized I had made a good decision. Every single panel is so filled with life and vitality—the most diehard Neal Adams fans will be blown away. You will be begging for a Neal Adams Iron Fist book when you see this issue."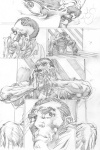 NEW AVENGERS #16.1 preview pencils by Neal Adams
However, while Avengers Mansion rejoices over Adams and Daredevil, surely its residents will not be so excited when Norman Osborn once again makes his presence felt. Despite being imprisoned following his disastrous Siege on Asgard, the Dark Reign mastermind has amassed a cult following among the disenfranchised across the universe, including remnants of his H.A.M.M.E.R. organization that have appeared in recent NEW AVENGERS issues. 
"[In NEW AVENGERS] and in other books like the excellent OSBORN limited series, we have been planting the seeds that just because the Dark Avengers saga [came] to an end and the Avengers were able to stop Norman Osborn doesn't mean that it all goes away," explains Bendis. "Many people believed in Norman Osborn. They want to see his vision turn into reality. All of those seeds explode into blossom in [NEW AVENGERS #16.1]."
Moving into the fall and even 2012, not only will Osborn prove resurgent, so will his allies, some more unexpected than others. 
"Norman Osborn figures gigantically into the next storylines of NEW AVENGERS and other places," Bendis reveals. "This is a second chance and a true rise to power. H.A.M.M.E.R. will be seen in the same light as HYDRA and A.I.M. Norman created the world around him and at the same time will find himself trapped in it. I think we have a very unique story and a very unique antagonist for the Avengers and that makes me very excited.
"I can also say that the Dark Avengers are absolutely returning. Yes, I know some of them are dead. But the Dark Avengers are coming back sooner than you think."