By Jim Beard
The Annihilators—Gladiator, Quasar, Ronan, Ikon and Beta-Ray Bill—rocket back for more team action in ANNIHILATORS: EARTHFALL, launching this September. Writers Dan Abnett and Andy Lanning bring these mighty cosmic heroes to Earth for a turf war of intergalactic proportions.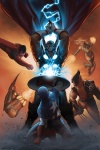 ANNIHILATORS: EARTHFALL #1 cover by John Tyler Christopher
"We really wanted to do a story that brought Marvel Cosmic and Marvel Earth head to head, so that these two parts of the overall Marvel Universe could meet and interact and the readers could enjoy a good old compare and contrast," reports Abnett. "A desperate and vital mission brings the Annihilators to Earth, and what generates the conflict with Earth's Mightiest Heroes is basically the clash of jurisdiction, and the incompatible interests of both teams; what's good for Earth might not be good for the Galaxy—and vice versa!"
As usual with Abnett and Lanning, this new tale may be experienced on its own as an exciting, enjoyable read, despite any unfamiliarity with the characters or settings an incoming reader may possess.
"If you read the previous [ANNIHILATORS] series, then this is a return to those characters and a continuation of the storyline, but if you're just joining us, this is the perfect place," Lanning notes. "This is the moment when the front line of Marvel's cosmic characters comes to Earth, so we get to introduce them, who they are, and what their agenda is, through the eyes of Earth characters who don't know what's been going on in space. Hey, it's almost like we designed it to be the perfect jumping-on point!"
Though the Avengers familiarity with outer space would never be categorized as scant, they don't always see eye-to-eye with apparently-invading forces. Warning: fisticuffs may be present.
"There's a great respect [between the two sides], but also a fear that Earth's valiant and headstrong heroes sometimes make Earth and human-centric interests too much of a priority," says Lanning. "As far as grudge-matches, we're bringing Ronan. What else do you need to know?"
On top of dealing with the Avengers, the Annihilators' interpersonal dynamics haven't improved overly much since their previous series. The writers tell us the cosmic forces get along "pretty well," but…

Rocket Raccoon & Groot
"Given the pro-Earth attitudes of characters like Cosmo, Beta Ray Bill and especially Quasar this could be the mission that splits them down the middle," Abnett says.
To balance the more serious aspects of the main story, the duo also promises a new back-up adventure in ANNIHILATORS: EARTHFALL featuring the lovable Rocket Raccoon and the laconic Groot.
"They get their own TV show and blow the flark out of stuff," promises Lanning. "You know: the usual, but bigger and better and crazier!"
Along for the wild ride, artists Tan Eng Huat on the main story and Timothy Green II on Rocket and Groot gain much praise from their fellow Annihilators creators.
"They are both great artists," Abnett says. "Tan brings fantastic scale and nobility to his work—these are serious cosmic heroes. Tim's stuff is just brilliant: funny, clever, detailed and dynamic."