By Tim Stevens
This September writer Eric Shanower and artist Skottie Young delight in putting Dorothy in harm's way once again with their fourth Oz adaptation for Marvel, DOROTHY & THE WIZARD IN OZ.
Picking up shortly after the events of the OZMA OF OZ, Dorothy and Uncle Bill return stateside to California's City by the Bay just in time for the devastating earthquake of 1906. Before the earth gives way, however, Dorothy finds herself some new companions for the adventure to come including her cousin Zeb and two more animal friends, a horse named Jim and a cat named Eureka.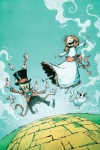 DOROTHY & THE WIZARD IN OZ #1 cover by Skottie Young
"Zeb is a year or two older than Dorothy," Shanower says, outlining the supporting cast. "He works on their Uncle Bill's farm in California. Uncle Bill also owns Jim, a former Chicago cab-horse, who pulls the Hugson's buggy. On her way through San Francisco, Dorothy finds Eureka, a pretty sarcastic kitten [who] unlike Dorothy's dog, Toto, has no problem talking and making her opinions known."
When the quake does come, the quartet survives, only to find themselves in perhaps even more peril.
"They end up trapped underground, facing danger from every direction," explains the writer. "They find themselves in a fantasy country where the glass buildings grow by themselves and everyone can walk on air. This is the Land of the Mangaboos, heartless vegetable people, who are angry to find that Dorothy and her friends have arrived with a destructive rain of stones shaken loose by the earthquake."
Dorothy, Jim, Zeb, and Eureka prove to be not the only top-siders underground either.
"The Wizard also becomes trapped underground during the 1906 San Francisco earthquake," reveals Shanower. "Dorothy and Zeb look to him to rescue them from the Mangaboos."
This proves task, however. In addition to the Mangaboos, danger comes in many forms below the ground.
"Further threats include invisible, man-eating bears; wooden gargoyles who don't make a sound; and a nest of dragons," the writer teases.
The characters' own inner struggles serve to exacerbate the situation as Zeb and Jim, in particular, seemingly lack the mental resources to face this world.
"Zeb and Jim are definitely not used to the sort of adventures that Dorothy is," Shanower admits, "The strange creatures they meet and the scary places they go in this story really freak them out."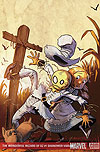 Oz art by Eric Shanower
Despite having spent large amounts of time adapting the Oz saga for comics, neither Young nor Shanower shows any signs of fatigue, a situation they owe to both their working relationship and the content of the stories.
"Eric and I have a very interesting way of communicating, which is to say that we hardly ever do," the artist jokes. "I trust Eric and his love for this project is only matched by his storytelling skills. I think that Eric has the same kind of trust in me and that makes for a great creative relationship."
"I've loved the Oz books by L. Frank Baum since I was six years old," Shanower shares. "The Oz books retain their freshness simply because the next one is always so different from what's come before. There are always new characters to meet and strange and exciting new adventures to undergo."
"There [are] no limitations," Young enthuses. "It's really as simple as that for me. We're playing around in worlds of pure imagination and so the readers allow me to pretty much do anything without calling foul. There is a level of joy in that kind of freedom and I'm having a blast with it."