The Red Skull by Nick Dragotta
By Ben Morse
Beginning in July, Joe Casey and Nick Dragotta launch a six-issue ambitious odyssey across time, space and the Marvel Universe, drawing in characters familiar and obscure to explore the complex nature of good, evil, and what lies beyond in VENGEANCE.
Over a 12-day period, Marvel.com will unspool a mere sampling of this story's sprawling cast and their histories, with Casey offering insight that provides both answers and more questions while Dragotta previews the visual genesis of VENGEANCE.
Get out your compass and then throw it away, as A Dozen Days of Vengeance will take you way off the map and on the path to the craziest adventure you've ever had!
CAPTAIN AMERICA COMICS #7 in 1941 contained the birth of Captain America's ultimate foe and one of the purist embodiments of evil in the Marvel Universe: The Red Skull.
Johann Schmidt went from downtrodden youth to Nazi officer to Germany's version of Captain America under the tutelage of Adolf Hitler himself. He battled Cap and the rest of the Allied Powers' forces through World War II before placing himself in suspended animation. Re-emerging in the modern era, the Skull would continue his rivalry with his patriotic opposite number while also becoming a thorn in the side of the Avengers and many other Marvel heroes. Numerous times the Skull has appeared to perish, but always seems to turn back up by various means, including transferring his consciousness into a body cloned from Cap himself or utilizing the Cosmic Cube.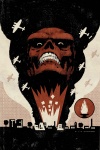 In recent years, The Red Skull orchestrated a scheme that saw the original Captain America, Steve Rogers, apparently assassinated—in actuality hurled backwards in time—and replaced by his former sidekick, Bucky Barnes. The Skull would lose his body in battle with Barnes and then fail in an attempt to subvert the mind of the returned Rogers, apparently dying once again. His daughter Sin has since succeeded him, but The Red Skull can never totally be counted out.
"There's a thread to this story that stretches all the way back to World War II," reveals Casey. "An atrocity committed by the Red Skull that has never been revealed—until now."
Thanks for checking out A Dozen Days of Vengeance here on Marvel.com—now get ready for VENGEANCE #1, coming your way July 6!