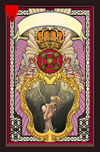 ANGEL: REVELATIONS #1 cover by Adam Pollina
Marvel congratulates the creative and editorial team of ANGEL: REVELATIONS for being honored by students in Guadalupe and the Assodoc Guadeloupe with their prize for Best Comic of the Year during the Festival of Comics, Caribulle held at Fort Delgres in Basse Terre.
A five-issue Marvel Knights limited series written by Roberto Aguirre-Sacasa with art by Adam Pollina original published in 2008, ANGEL: REVELATIONS follows the early years of Warren Worthington III, a young mutant who would become the X-Man called Archangel, as he struggles with his powers emerging as he comes of age and faces the pressures of impending adulthood.
The students participating in the Prix DB Guadeloupe created trophies for Aguirre-Sacasa, Pollina and the rest of the ANGEL: REVELATIONS team that you can see in the gallery below. You can also read the
full run of ANGEL: REVELATIONS
on
Marvel Digital Comics Unlimited
.