By Jim Beard
Ed Brubaker's a busy guy. Not only does the prolific writer direct all the amazing action in the Captain America universe, he also delivers a one-two punch with his creator-owned series, CRIMINAL.
We requisitioned a few moments of his time to check in about the impending release of the all-new CAPTAIN AMERICA #1—with Steve Rogers back in the saddle—and the latest goings-on in the world of CRIMINAL.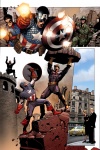 CAPTAIN AMERICA #1 preview art by Steve McNiven
Marvel.com: You've spent a lot of quality time at Captain America's side over the past few years; what's something about him that you'd still love to learn going forward into the new series, and why?
Ed Brubaker: To learn? I'm not sure I ever know what I'm learning when I write any characters. For me, this new Cap launch is about finally getting back to Steve Rogers in the uniform. At this point, I've actually written more issues with Bucky in the uniform than I have with Steve. I never intended to keep Steve out of the uniform that long.
Marvel.com: What kind of learning curve will Steve follow in CAPTAIN AMERICA, if any, to get back into harness? Are the shield and costume like riding a bike?
Ed Brubaker: I think so, but for Steve, that uniform and shield also come with a big weight, and he may not be ready to carry it again.
Marvel.com: CAPTAIN AMERICA #1 opens with Steve at Peggy Carter's funeral; will mortality play a big role in the series?
Ed Brubaker: No bigger than in any other Marvel book, I'd imagine. But Peggy's funeral is a direct line to the past, shining a light on Steve being a man out of time, even today, after all these years fighting in the modern Marvel Universe.
Marvel.com: You're joined by Steve McNiven as artist on the new series. What do you love about working with Steve?
Ed Brubaker: He's the greatest. He takes every scene I write and adds an electric intensity and velocity to the action. It's really something to see, and every time new pages come in, I'm just thrilled.
Marvel.com: Beside the obvious ones, what writing gears do you switch from CAPTAIN AMERICA to CRIMINAL? What are the similarities and differences in construction and approach?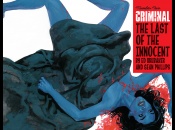 CRIMINAL: THE LAST OF THE INNOCENT #2 cover by Sean Phillips
Ed Brubaker: If I'm doing my job right, then the only gear to switch is the genre. CRIMINAL stories tend to grow from small human events into a bigger crime or mystery or thriller, but my approach to writing is always the same. The stories come from the characters first, whether it's Cap or Daredevil or Tracy Lawless; how does this character react to this thing happening, what matters to them, things like that. I play with structure more in CRIMINAL, but I play with it in my Marvel work a lot, too. I should do it more, really.
Marvel.com: At this stage in the game, with almost five years worth of CRIMINAL tales, what are you most pleased with in the series? What has it become, in your own mind?
Ed Brubaker: I'm most pleased with the fact that it's survived, honestly. The fact that it [has] won seven or eight awards and gotten as much notice as it has is amazing, but my goal with CRIMINAL has always been to just keep it going, and that hasn't always been easy; this is a tough market, and so I really appreciate the hardcore fanbase we've got, who buy those single issues every time they come out.
As for what it's become, I think for me, it's become the most personal writing of my career. The place I can tell any kind of story, and it's become a world that [artist] Sean [Phillips] and I build and keep coming back to. That and the freedom to just go any direction with it, [is] what keeps me—and hopefully our readers—coming back year after year.