By Ben Morse
On July 20, the original Man Without Fear reclaims his title when Matt Murdock returns to Hell's Kitchen in DAREDEVIL #1. Launching the Guardian Devil into the next phase of his life in the Marvel Universe will be a creative team without peer, led by writer Mark Waid along with artists Marcos Martin and Paolo Rivera.
As all our senses tingle with anticipation, we'll be spending this week counting down with the people bringing DAREDEVIL to the printed page and discussing a variety of topics pertaining to his world at length.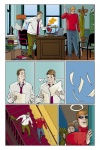 DAREDEVIL #1 preview art by Marcos Martin
In or out of costume, Matt Murdock runs in interesting circles.
The affable Foggy Nelson has been Matt's constant companion, his best friend and legal partner, through the happiest highs and most devastating lows. Foggy aside however, a parade of quirky and charismatic characters have moved in and out of Daredevil's radar, more than a few of them attractive members of the fairer sex.
From sweet Karen Page to the assassin Elektra to doomed Milla Donovan, Mister Murdock's dance card rarely empties, though all three of those particular romances—and a few more besides—have ended in tragedy.
Today, Mark Waid walks us through Daredevil's supporting cast, from those no longer in the picture to others who may be on the way back and even a few new faces.
Marvel.com: What do you like about Daredevil's supporting cast?
Mark Waid: I admire their superhuman ability to put up with Matt Murdock.
Marvel.com: Why is Foggy Nelson such an enduring character as well as crucial part of the Daredevil mythos? Can you imagine a Daredevil book not featuring him?
Mark Waid: Nope. Matt needs a foil. He needs a peer to talk with. He needs a Jiminy Cricket sometimes. Their relationship is much tighter now that Foggy knows Matt's secret identity, which shows that there is no more loyal friend in the entire Marvel Universe than Foggy Nelson; a lot of people would have walked away from Matt after having been fooled by him for so many years. 
Marvel.com: Are there characters that fit into Daredevil's world but can't bleed into Matt's and vice versa?

Dakota North
Mark Waid: Uniquely for Daredevil, not really. I mean, there may be someone I'm overlooking, but by and large, everyone fits into both worlds on some level, from Foggy to Dakota North on down. But we will be introducing some new interns and assistants at the Nelson and Murdock law offices who are more "Matt"'s crew than DD's, including maybe the most infuriating receptionist of all time.
Marvel.com: Who is the true love of Matt Murdock's life?
Mark Waid: His mom.
Marvel.com: Who would you prefer to write as Daredevil's love interest: Karen Page, Elektra, somebody else or somebody new?
Mark Waid: Someone new. Karen's still dead, Elektra I love but don't have a feel for, but there are several new women coming up soon in Matt's life who are potential romantic interests, including someone quite surprising borrowed from the Spider-Man cast. Ponder that and start placing your bets.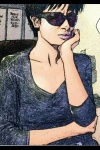 Milla Donovan
Marvel.com: Which oft-overlooked members of Daredevil's all-time supporting cast do you have a soft spot for?
Mark Waid: Foggy's overbearing mother [Rosalind Sharpe]. I should see if she's still alive…
Marvel.com: Who from Matt Murdock's past would you like to bring back?
Mark Waid: No one really comes to mind, to be honest. I'm more interested in charting Matt's future than living too much in his past. Okay, I'm lying; we really need to check in on Milla someday.
Marvel.com: What can you tell us about the characters that will make up the supporting cast in your series?
Mark Waid: Kirstin McDuffie is the new Assistant D.A. in town, and she very quickly establishes that she has a very interesting and very complex relationship not only with Matt but, separately, with Foggy. Kirstin's one of the die-hards who fully believes that Matt is Daredevil and won't be convinced otherwise, so she just talks to him like he's Daredevil despite his protestations, which she ain't buyin'. Which actually turns him on.  Then again, to be fair, there's very little about women that doesn't seem to turn Matt on.
We're also meeting a kid in issue four who shares something very fundamental in common with Matt. Keep an eye on him. If he lives.
Marvel.com: Will some characters who might not necessarily be full-time cast members be making guest appearances early on?
Mark Waid: You will enjoy Captain America's guest appearance far more than Daredevil will.
Tomorrow, we wrap our five-day look at the World of Daredevil with Mark focusing on the Man Without Fear himself!