By Steven Romano
Marvel's latest addition to the Avengers mythos, the students of the AVENGERS ACADEMY series, have only witnessed major events unfold from the sidelines, but with Fear Itself in full swing, they're headed from the classroom straight into the mouth of the Serpent.
Of course, while they may share some similarities to other super-powered teens like the New Warriors or Young Allies, the Avengers Academy crew has several unique attributes that may help or hinder them during this upheaval.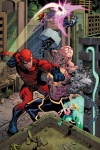 AVENGERS ACADEMY #16 preview art by Tom Raney
"What I think sets the kids of Avengers Academy apart is the very real sense that they could cross over to the side of being villains," says series writer Christos Gage. "That was there somewhat with the New Mutants, but with the Avengers Academy kids, they start out with one foot already on that path, thanks to Norman Osborn's mistreatment."
Events like Fear Itself make for epic storytelling, but with so many other series tying in to the action, keeping track of the continuity established by other writers during the creative process can make for a daunting task, but Gage has his methods for making sure his characters stay in the forefront.
"All I ever do is try to tell the best story I can," notes the writer. "That approach doesn't change for me. Crossover events always require some degree of playing well with others, but the advantage of AVENGERS ACADEMY is that it's not as though the characters appear in three or four other books, the way, say, Spider-Man or Wolverine [do]. I can make the events of the story affect them significantly without worrying about whether I'm ruining other people's plans."
Still learning the ropes of super heroics, the Avengers Academy students have already faced and overcome a number of threats both tangible and within themselves, but never before have they faced a world crisis with inevitable loss of human life. The students will each be uniquely and profoundly affected, but, upon the conclusion of Fear Itself, who will be hit the hardest?
"We've already seen in [issue] #15 that Mettle was extremely shaken by having to kill a man operating one of Sin's assault mechs in order to save innocent lives," reminds Gage. "It's safe to say that's going to continue to affect him. And he certainly won't be the only one experiencing some life-altering events."
Our heroes will also face a rematch with Absorbing Man, only recently defeated by their mentor, Giant-Man. But with Crusher Creel empowered as one of the Serpent's Worthy, scientific acumen and Pym particles can only go so far.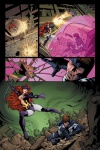 AVENGERS ACADEMY #16 preview art by Tom Raney
"Much like all the Hammer-Wielders, the Absorbing Man and Titania have been elevated to Thor's power level or higher," says Gage. "But they also have the consciousness of ancient gods sharing their bodies. In the Absorbing Man's case, he was already immensely powerful; it was his mind, his lack of vision and intellect that held him back. Now all bets are off. We're going to see a much more calculating, cruel Absorbing Man."
Speaking of the Academy's resident Scientist Supreme, Pym has experienced his fair share of tragedy, and having to send the neophyte Avengers Academy students into the trenches doesn't thrill him, but Gage feels the founding Avenger actually may be hitting his stride:
"Hey, I think he's doing pretty well! He's running Avengers Academy, he beat the Absorbing Man recently, he's corralling escaped villains from the Raft and he's got a pretty hot and heavy romance going with Tigra. Plenty of super heroes would probably love to trade places with him.
"Of course, the thing about Hank has always been that he dreams big and tries big, and while that leads to a lot of amazing discoveries, eventually it also means he fails big. The difference now is that he's embraced that fact, and vowed that he will stand up and deal with the consequences, for better or worse. That's pretty heroic, if you ask me!"
Ultimately, Fear Itself will leave no part of AVENGERS ACADEMY unscathed, from students to teachers to status quo.
"Avengers Academy began as a very tentative experiment; the teachers were learning as much as the kids," says Gage. "Now that they have some practical experience under their belts, they may decide to make changes—and they may have changes forced upon them."