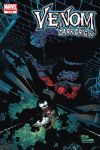 VENOM: DARK ORIGIN #1 cover by Angel Medina
Ever wonder what makes one of Spider-man's most fearsome foes tick?  No, we're not talking about Will O' the Wisp! Venom is the villain of the hour, and today on the Marvel Comics App, we're spotlighting everyone's favorite brain-slurping symbiote in not one but two series: VENOM: DARK ORIGIN #1-5 and VENOM (2003) #1-6. We'll make this deal even tastier by offering each single digital issue for only 99 cents!
In VENOM: DARK ORIGIN #1-5, you'll be transported back in time to when Eddie Brock first met the alien symbiote that would forever change his life!  See life through the eyes of a slightly unbalanced sociopath headed towards a breakdown as Venom encounters our favorite wisecrackin' webhead and begins a classic comic book rivalry. In VENOM (2003) #1-6, Venom leaves the Big Apple for the icy tundras of the Arctic Circle as the symbiote finds itself imprisoned by a group of scientists determined to eradicate it. 
Do they succeed? That would be telling, so the only way to find is to purchase VENOM: DARK ORIGIN #1-5 and VENOM (2003) #1-6 on the Marvel Comics App. Do so today because this deal lasts only until 11 PM EST.
Don't have the Marvel Comics App? What are you waiting for?! Download it right HERE!

The Marvel Comics App for iPad (as well as the iPhone and iPod touch) is available for free from the App Store or at www.itunes.com/appstore. Individual comics are priced at just $1.99 each with new content arriving every week.