By Chris Arrant
This July, one of Marvel's most iconic duos reunites when CAPTAIN AMERICA becomes CAPTAIN AMERICA & BUCKY.
This epic partnership traces its origins back to the earliest days of Marvel and the heart of World War II back in the 1940's. Writer Marc Andreyko joins long-time Cap writer Ed Brubaker to unveil the real truth of Bucky's life from the battlefields of Europe all the way to the trials of Fear Itself.
CAPTAIN AMERICA & BUCKY marks Andreyko's return to the hallowed halls of the House of Ideas for the first time in nearly a decade. The writer spoke on this new patriotic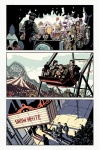 CAPTAIN AMERICA & BUCKY #620 preview art by Chris Samnee
Marvel.com: So what can you tell us about CAPTAIN AMERICA & BUCKY, Marc?
Marc Andreyko: The series focuses on the Cap/Bucky relationship through the ages and reverberates today.
The first issue follows Bucky from the death of his mother through his training to become Cap's partner. We get to see Bucky's [relationships] with his father before his untimely demise and little sister, Becca, as well as his days as a "mascot" at Camp Lehigh and how he made himself valuable to the enlisted men.
Marvel.com: I've always thought one of the most interesting things about Bucky's origin was the fact that he grew up on a military base. How does that work here?
Marc Andreyko: We see a lot of that in the first issue. Bucky, after enduring so much tragedy at a young age, struggles to get out of his own way and figure out who he is, and who he wants to become.
Marvel.com: Although the series is called CAPTAIN AMERICA & BUCKY with Bucky's name second, this series is more from his point-of-view. Is that right?
Marc Andreyko: Well, at least for the first arc, anyway. [Laughs]
This initial arc covers heretofore unseen moments in Bucky's life from World War II through the Winter Soldier years. It's mostly World War II but the final issue is Winter Soldier like you've [never] seen before.
Marvel.com: For this book you're teaming up with long-time CAPTAIN AMERICA writer Ed Brubaker. How'd that come about?
Marc Andreyko: Ed and I have been friends for over a decade and I've been a fan since his Lowlife days. When he asked me to come aboard, it was a no-brainer. And a privilege.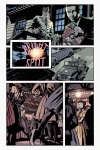 CAPTAIN AMERICA & BUCKY #620 preview art by Chris Samnee
Marvel.com: This marks your first Marvel work in some time—almost 10 years to be exact. How is your knowledge of the Marvel Universe, and why does this series make a good return?
Marc Andreyko: I grew up a Marvel kid. I even learned to read from AMAZING SPIDER-MAN! So, coming back is a dream. My best friends work here—Brubaker, Brian Michael Bendis, Christos Gage, to drop some names—so, it is doubly exciting. And I love Cap and what Ed has done with Bucky is brilliant. I'm very, very happy.
And I don't want to forget our artist, Chris Samnee. His work on this book is a quantum leap from his previous amazing work. This kid is gonna be a superstar. I'm exceedingly proud of this book and hope everyone checks it out. It's damn good!