By Ben Morse
We're still two weeks away from X-MEN: SCHISM #1 by writer Jason Aaron and artist Carlos Pacheco hitting the stands on July 13. But as pages continue to flow fast and furious into the X-Office here at Marvel HQ, it's tough not to already be looking ahead, particularly when each installment of the mutant mega event features art by a different A-list superstar, including the legendary Alan Davis on issue #4, coming September 21.
X-MEN: SCHISM #4 preview pencils by Alan Davis
"Alan drew some of my favorite X-Men moments of all time," shares Senior Editor Nick Lowe. "From UNCANNY X-MEN #213 and UNCANNY X-MEN ANNUAL #11 to NEW MUTANTS ANNUAL #2 and—wait, I want to just list every X-Men comic he's done and we'd be here all day. The guy is one of the X-Men artists. So when it seemed possible to get Alan here? I jumped at it and begged and pleaded and bribed to get him on board."
While X-MEN: SCHISM tells one cohesive story over five issues, Lowe and Aaron certainly took each artist's particular strengths into account to make sure each had a chance to fully show off their talent, Davis being no exception.
"Once we sent him the script I wanted to get out of the way," says Lowe of his approach to working with Davis. "The guy is one of the best storytellers to ever draw comics. He brings scope, awesome characterization and brutal fighting. He's amazing."
Speaking of that "brutal fighting," much of the conflict in SCHISM will come from the explosive falling out between Cyclops and Wolverine, but also menacing our heroes will be the return of their terrifying mechanical foes, the Sentinels. As you can see in the preview pages throughout this article, Davis—no stranger to Sentinels—has a new approach to the killer robots.
"SCHISM #1 takes the next step for Sentinels in the greater X-Men story," reveals Lowe. "But the Sentinel pictured here is a very different Sentinel than any we've seen. I don't want to spoil anything, but it's the creation of an incredible new villain who debuts in SCHISM."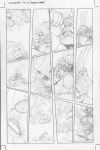 X-MEN: SCHISM #5 preview pencils by Adam Kubert
You'll want to be sure to be the first of your friends to grab SCHISM #1 on July 13, then snap up the subsequent issues all the way through #4 on September 21, but it's still not over there, as this thrill ride keeps coming strong all the way through to the finish.
"People are going to lose their [expletive]," exclaims Lowe. "The X-Men are fighting amongst themselves when they really need to band together. They're screwed. And one of the best things about the fact that we've already told people about the split in the X-Men is that I can actually tell people that the X-Men don't come out of this winners.
"And I know people love these pencil previews so much, I wanted to add one page of #5 by Adam Kubert that is amazing. Can't show too much, but it's awesome."