NOTE: DEADPOOL MAX is intended for mature audiences
By Jim Beard
"My mind tends to look for the absurd in normal situations," says writer David Lapham.  "I think that offbeat and crazy characters cut through a lot of the artifice we put up in normal life. Deadpool doesn't care about how things are supposed to be. He doesn't care what the rules of society are. He cuts through everything and serves it up on a triple-decker hoagie roll with lettuce and a slice of muenster cheese."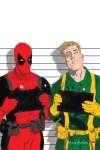 DEADPOOL MAX II #1 cover by Kyle Baker
Good thing Lapham possesses an affinity for such characters, as later this summer he and artist Kyle Baker will debut DEADPOOL MAX II, a follow up to his laugh-inducing DEADPOOL MAX and featuring everyone's favorite unhinged assassin. The writer reports that no pause or reprieve will be given readers as Deadpool leaps like a lunatic from the first frantic series to his nutjob next.
"We're just rolling on," reports Lapham of how DEADPOOL MAX II follows its predecessor. "Issue #12 ends on a major event, so the overarching story follows that line.  Bob and Deadpool are now rogue agents and wanted fugitives. Bob in particular is now quite famous on the 'most wanted dead by the average American citizen' list. They now have to find out what went wrong, who is behind the Shadow Government and just what the purpose of the Deadpool Project is."
Sounds pretty serious—and Lapham confirms that the new run of Deadpool shenanigans will be as serious as a tongue stuck firmly in a cheek.
"Everything is dead serious," he notes. "If it wasn't it wouldn't be funny. The events and the stakes are as high as it can get in a real world situation. The satire comes from the fact that Deadpool is nuts and Bob is, well, not as clever as he thinks he is—and possibly a masochist in denial.
"Also, they meet a lot of other people who are pretty nuts. But a nut with a knife or a bomb is still a nut and still has a knife or a bomb. The point is that nuts are dangerous too. They're very high in fat."
Lapham also feels pretty lucky to maintain his DEADPOOL MAX artist and co-creator Baker for the hijinks promised in DEADPOOL MAX II.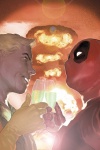 DEADPOOL MAX #12 cover by Kyle Baker
"Are you kidding?" he asks, questioning our sanity for wondering out loud if he enjoys working with Baker. "Kyle's one of those guys. One of the artists you dream about working with. Years ago I had a project with Bill Sienkiewicz going that fell through, and I always thought of that as my 'one that got away' fish story. Well, this time I got Kyle and he didn't get away. And I give thanks to the comic gods every issue and I sacrifice mole people and burn old issues of POWER PACK in their honor. Nothing against POWER PACK; it's just that the comic gods like child sacrifices. 
"Anyway, Kyle's style on this is so perfect and pulls off exactly the satire and tone of the book. Plus he's a very nice person and he loves kids and dogs and cartoons and stuff. Actually I don't know what he likes—why don't you go interview him and stop trying to pump me for information?"
Well, what about DEADPOOL MAX II fill-in artist Shawn Crystal? What does Lapham know about him?
"Shawn's not as old as me and Kyle and so we don't have to talk about him too much, but I'm just coming up aces in the art department on this book," he says. "But we're working on a DEADPOOL MAX HOLIDAY SPECIAL I wrote where Kyle, Shawn, and I are [each] going to draw a 10-page sequence. I have it on editorial authority that the book is highly amusing - possibly even the funniest book ever written. Yeah, this one's a killer."